I'm struggling.
There, I've said it….I'm really struggling.
Grace means the world to me and all I want to do is protect her. All I've ever wanted to do is stop people hurting her, spoiling her, bullying her and controlling her and her emotions. I think that is what any Mother wants. Which is the reason I will take the flack and get bullied for her.
I am exhausted.
I thought I had put this all behind me 6 years ago and now I find myself feeling very similar emotions, however in those days it was far easier not to let Grace see. She is 6 and a half now and is even more perceptive to me being upset. Back in those days, my Mum would take Grace off me and let me have an hour or so to myself to cry so that Grace didn't see it. Now I find that Ross is doing a similar thing for me for the moment.  It doesn't stop her coming up to me and putting her arm around me now and again, rubbing my back, telling me everything is going to be alright. It isn't right that she should be doing that. And I do my best to hide it from her too.
Some people are born bullies and never seem to stop or even know or understand that they are doing it.  They act like the seagulls from Finding Nemo without a thought for anyone else but themselves.  I found myself up against a female version of this last Monday evening.
He will never see things from my perspective. Never understand that he might be in the wrong or see things from a small child's point of view. And he has met his equal from what I have seen in this new woman.  Instead of dealing with one bully, I am dealing with two. Last week I was called names, accused of things I had and hadn't done when all I was trying to do was make sure, from one Mum to another, that Grace was being put first. That she was in a nurturing environment. That her needs were being put first and that our parenting matched. Then she stood up in a public place, called me names and walked out on me.  How is this right and constructive for Grace? How can I trust where she is and who she is with? How is Grace coming home tearful, anxious, insecure and scared to go to bed at night constructive? How is that right for her? Or me? Or Ross?   I am doing everything I can to help her to be a little girl who is secure and happy, who can sleep safely in her bed at night without worrying.
I had learnt how to deal with the first bully. Show them I was strong and stood up to them without compromising me or my daughter.  I am still trying to show them that, contrary to their belief, I am not doing things 'out of spite' toward them. I don't waste my time on things like that, I have a life I want to live. So why should it be any different now that there is someone else in the picture?
More threats have come. More promises of court if things don't go their way. They are forgetting the fact that it is not about them.  It is about a charismatic little girl currently downstairs playing and laughing with Ross. She is starting to find her security again, feel safe and happy and I want to wrap her up in cotton wool and never let her see the bad things.
All I want is for Grace to be happy. When she is away it means I have some 'us' time for me and Ross. Something vitally important for us as Grace was in our relationship  from around 4 months in of Ross and I being together. Most couples have at least 10 or 11 months of getting to know each other minimum. Now, because I need to put Grace and her feelings first, our two precious evenings every other week are on the back burner for the moment.  I don't care though….I will do this, despite everything, for Grace. But apparently, according to the bullies, I am doing that out of spite.
I will continue to put my daughter first, protect her feelings and make sure she is safe. No matter what.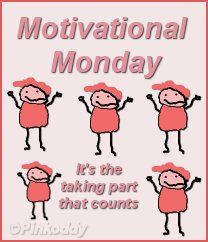 Linking to this week's Motivational Monday