Thank you to everyone who linked to Prose for Thought last week. We seem to be getting our regular group submitting now and are into a lovely groove with each other plus, we get a handful of people joining in now and again plus we get a new linker every now and then. New linkers are ALWAYS very welcome 🙂
A reminder that Helen at All At Sea has her first BritMums Poetry and Prose round-up next Wednesday 7th August so please support her and give her some comment love over on the BritMums site when she is up and running.
I am really enjoying reading rather than writing my poetry.  Thank you so much for your supportive comments last week, I really appreciate your feedback on what you thought of me reading my poem out and once again this week I have decided to record my post so that you can listen but I have also printed the words below so that you have the best of both worlds.
This week I wrote a poem about being 'too nice' – something I have been guilty of for far too long now and I am trying to get out of the habit of not saying 'no'! BUT I am not going to stop being nice. I'd rather be that way to be honest.
Enjoy!
Being nice gets you nowhere
Being nice gets you nowhere
That's what people say
Take off you with no thank you
Tell me will there come a day
Will people know or understand
How to be polite
It really doesn't take a lot
Please try with all your might

And then there's stabbing you in the back
I think that may be worse
I give and give without learning
I wonder why I curse!
I wonder if they realise 
what they actually did
Or if like me, their feelings
They keep them so well hid

But if being nice gets you nowhere
Then I'll be on that road
I'd rather have my morals intact
Than a nasty little toad
I'll stay just the way I am
Decent and upstanding
And you carry on the way you are
You'll be in for a bumpy landing!
Copyright Victoria Welton 31st July 2013
I would really love and appreciate your comments below – and please, go and visit and comment on, the poems from the people who link up 
If you have your own poem or piece of prose to share then grab my badge code and click the link below to enter your post. If you share a link back to my page in your post then you will be guaranteed some free publicity from me on Twitter! Don't forget to use #Prose4T when tweeting your post.  Check out the Prose for Thought page for full details.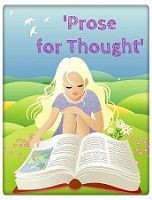 <div align="center"><a href="https://www.vevivos.com/prose-for-thought" title="Prose for Thought"><img src=" http://i1322.photobucket.com/albums/u568/ToriWel/Proseimagesmall_zps637beb08.jpg " alt="Prose for Thought" style="border:none;" /></a></div>