Welcome everyone to this weeks Prose For Thought. As you may already know, I have been taking care of Wednesday Words for Emma over at Crazy with Twins this week whilst she is away at Coombe Mill. I have linked it up below and would love some of the other Prose for Thoughters to link up too.
I would like to extend my congratulations to Stephanie over at Storybramble. She has just been asked to read her poem 'When I Was Wee' at the Forest Cafe for the Edinburgh Fringe Festival on 6th August. She has also just started looking at holding an 'open mic' night for some of us to perform our work. Details here.
This week I am sharing another recording with you of a poem I wrote whilst on the train to London last Thursday. I got very reflective and started to think about my life up until this point. To show what sort of mood I was in, I also saw many farms on my journey and started to wonder if farmers know the names and personalities of all their cows – I was thinking some very imaginative thoughts!
I have decided just to record my voice this week. I wanted to see how it compared to a video so I would value your opinions.
I would really love and appreciate your comments below – and please, go and visit and comment on, the poems from the people who link up 
If you have your own poem or piece of prose to share then grab my badge code and click the link below to enter your post. If you share a link back to my page in your post then you will be guaranteed some free publicity from me on Twitter! Don't forget to use #Prose4T when tweeting your post.  Check out the Prose for Thought page for full details.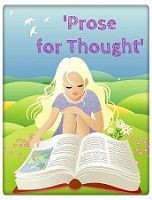 <div align="center"><a href="https://www.vevivos.com/prose-for-thought" title="Prose for Thought"><img src=" http://i1322.photobucket.com/albums/u568/ToriWel/Proseimagesmall_zps637beb08.jpg " alt="Prose for Thought" style="border:none;" /></a></div>
Copyright protected by Digiprove © 2016 Victoria Welton