So, as you may know my good friend Jaime from The Olivers Madhouse is away sunning herself once again following her fabulous win of a holiday from Mark Warner. Thoroughly deserved Jaime and well done to you and the rest of the bloggers for the work they put in to their entries. I suspect that Jaime's Magic Moment regarding her holiday will be shared with us on her return 🙂 So once again I am looking after the Magic Moments linky for you lovely people.
I'm sharing my Magic Moment with you this week all about the trip Ross and I took to Scotland this weekend. It really will become one of those 'special' days that you want to last forever. I suspect Grace's Magic Moment will be tomorrow when she breaks up from school! Ross' will be when he finishes the project he is working on at the end of this week!
I fear I am still a little behind on reading all the wonderful linkers to Post Comment Love at the weekend but I will get through everyone and will then be moving on to all the fab linkers to Magic Moments. I shall be spending all my spare time reading blog posts this week – definitely my favourite past time 🙂
Please share your link below and with such a large crowd linking in please don't think you have to comment on every one, I know many of you don't have time for this and it's unrealistic. However please visit as many as you can manage,If that's only a few that's fine. Linky's after all are about spreading some linky love to others.
If your new and would like to find out more about how you link up then please feel free to read about the Magic Moments here. If you'd like to grab the badge, then just copy and paste the HTML code below.
Next week Magic Moments will be back in it's rightful place!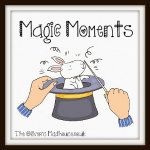 <div align="center"><a href="http://wwwtheoliversmadhouse.co.uk" title="The Olivers Madhouse"><img src=" http://i1303.photobucket.com/albums/ag146/theoliversmadhouse/magicmoments150x150_zps58f60c40.jpg" alt="The Olivers Madhouse" style="border:none;" /></a></div>
>