Thank you so much for all your wonderfully supportive comments for my poem 'I Try' last week. It really helped after some rather testing times for me.
For the last few weeks I've felt a bit out of sorts and detached from my love of poetry, mainly because I have not taken my time to read it all properly. This week however, I shall be on a train to London and spending about two and a half hours travelling so what better way to spend my time (apart from writing all the blog posts I am behind on!) than reading everyone's poems that link up to Prose For Thought?
This week I was inspired to video myself reading a poem. This has come about because, for the last two weeks, Stephanie at Storybramble has done this very brave and wonderful thing. It has brought her poetry to life and when the words are spoken, it gives them such value and meaning. The one I am going to read is called 'Questions' and I wrote it just yesterday. I have decided not to explain it, just let the words speak for themselves.
Copyright Victoria Welton 17th July 2013
I would really love and appreciate your comments below – and please, go and visit and comment on, the poems from the people who link up 
If you have your own poem or piece of prose to share then grab my badge code and click the link below to enter your post. If you share a link back to my page in your post then you will be guaranteed some free publicity from me on Twitter! Don't forget to use #Prose4T when tweeting your post.  Check out the Prose for Thought page for full details.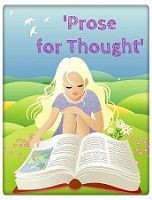 <div align="center"><a href="https://www.vevivos.com/prose-for-thought" title="Prose for Thought"><img src=" http://i1322.photobucket.com/albums/u568/ToriWel/Proseimagesmall_zps637beb08.jpg " alt="Prose for Thought" style="border:none;" /></a></div>