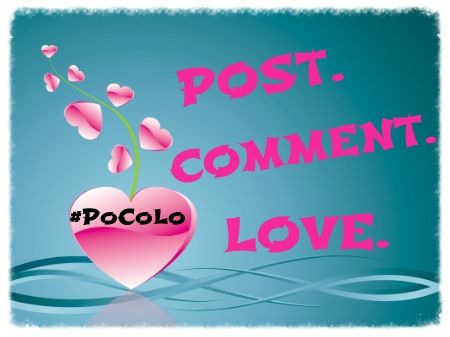 One full week in our new house and we are making great progress with the boxes, Grace has completed her first full week at her new school, we have a lovely new corner sofa on its way, BT have been super fast and so all is right with the world!
Following the move and the holiday I have a whole host of blog posts swimming around in my head and I stated this on Twitter yesterday with Lorraine at Gin and Cornflakes. The conversation went like this:
So the next time I have a rant, I know I have a variety of post titles to choose from!
I did my best to get round to every single post last week and managed to finish all by Tuesday evening but apologies that I didn't manage to tweet out every single of one of you! I'll do my best this weekend.
If you are a regular here then it would be great if you spread the #PoCoLo word. However, if you are new here then welcome! Post Comment Love is all about sharing posts which you have written this week which just haven't got the attention they deserve and, with them all in one place, we can help each other share the comment love. This is one of the easiest links EVER. You don't have a 'special theme' to have to write about, the post can be personal, sponsored, a photo, a review, a competition, your own linky, something you've linked to a linky….WHATEVER you like – it's one you've already written this week! If you want some publicity and attention, then you are in the right place!
The only rules are that you comment on at least two of the other posts in the link (maybe the one above and one below yours?!) and then spread the #PoCoLo about this link up on Twitter.  The post you link up has to have been written in the last week.  The link will go up every Friday at 6.30am and close on Sunday evening at 8pm.
Remember, the more people who link up, the more attention your post is likely to get so please spread the Post Comment Love word and #PoCoLo.  Leave your Twitter handle and link entry number below if you would like a shout-out on Twitter (I'll probably tweet you anyway but if I don't get round to it then I'll make sure I tweet the ones in the comments). Also, don't forget to display the PoCoLo Badge (code below), again the more people who see it, the more attention your lonely post will get.
I have a list for the Newbie Showcase running into the end of December. If you would like to be featured then please email me at vickywelton@hotmail.com so I can put you on the rota. Remember, your blog needs to be under a year old to feature.
This week's Newbie Showcase is the very lovely Sally from Faded Seaside Mama who informed me earlier in the week that this showcase couldn't have come at a better time for her. Glad to be of service Sally 🙂
Hi!  I'm Sally and I blog as 
Faded Seaside Mama
 (a spin on The Delays' album Faded Seaside Glamour) and twitter as 
@mummysallygg
 about life with my wife and our two amazing little girls.  We live in my hometown which I left when I went to Uni, desperate to escape the crumbling resort that had nothing to offer teenagers or graduates.  I tried living all over the country but never found anywhere that felt like home so when I had my first daughter, Bunny, I was desperate to retrace my roots and was surprised by the regeneration that had taken place in my absence.  We have lots of fun here as a family and I have been involved in our Town Team which is working to improve its image.  I have also been running a cloth nappy library and was providing breastfeeding peer support but now I've returned to work, I don't have as much time for the voluntary roles anymore so these have had to take a back seat for now.
I started this blog when I got tickets to the Paralympics and realised that too much of my children's early lives were being forgotten as we weren't recording what we were getting up to.  A blog seemed an ideal space to share all of the photos we took and record the stories that were behind them.  I started slowly, not really understanding how blogging actually worked but then decided over the Christmas break to start putting a bit of effort in.  I'm still a long way from a success but love that we have a much more comprehensive record of our lives now.
As a lesbian, I underwent fertility treatment to conceive my children and decided that the very private blog diary I kept when I had my first treatment might be of interest to others and copied it over to my new, more public blog.  This is why there are some very old posts on a blog that only started 10 months ago!
Although we are mummy and mum, our lives are pretty much the same as other families and I often forget that we're "different", although I know we do some things differently to your average family (we don't watch TV for starters!).  We have good times and bad times, tears and laughter as well as lots of adventures. I hope you'll join us as we continue to explore our world and seek out new experiences.
Thank you so much to the amazing Vicky for giving me this opportunity to introduce myself.  I love #PoCoLo and always try to dip in and read some other blogs (although can't always comment from my phone for some reason!).  Do make sure you do the same while you're here and I'm sure you'll discover some truly inspirational writers!
You are very welcome :). Please show your PoCoLo to our Newbie Showcase and also remember to visit lots of the lovely linkers below .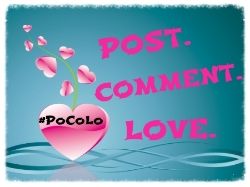 <div align="center"><a href="https://www.vevivos.com/post-comment-love" title="Post Comment Love"><img src=" http://i1322.photobucket.com/albums/u568/ToriWel/4e4a1bf6-07cb-494b-b06e-f959b1fe1311_zps654d027a.jpg" alt="Post Comment Love" style="border:none;" /></a></div>