What seems like forever ago now, Ross, Grace and I were invited for a day out at Legoland Windsor due to my total shock success at becoming a finalist in the MAD Blog Awards in Most Innovative Category.
So, on Sunday 16th June – an appropriate Fathers Day present for Ross – we set off nice and early to Legoland. At the time we still, just about, lived in Berkshire, so it was only half an hour up the road.
Upon arrival, I recognised a blogger I knew and shouted across 'Hi!' followed by a pause, followed by 'Who are you?!' It was, of course, the lovely Emma from The Minis and Me – sorry about that Emma! Then I made another booboo by calling Jen from Mum in the Madhouse by the name Sally! Whoops!
At registration I met the infamous Sally Whittle, Laura from Lady Briggs – who, not for the first time, I called Emily (this then became a standing joke at BritMums Live, more apologies to Laura) and finally met Charly from PODcast (who has gone on to become one of my best blogging buddies).  I also met Emma from Crazy With Twins. I knew her as soon as I saw her. We gave each other the biggest 'knowing' hug ever 🙂
Ready for our day with the golden wristbands of glory (which meant we could look famous and get past everyone to get on the rides!), we set off to watch the new Chima 4D in the Imagination theatre where I was really happy to meet – and sit next to – Sarah from Mum of Three World. I was also able to wave to a number of other bloggers I recognised including Emily from Family Four Fun, Maddie from Gammon and Chips and Helen from Actually Mummy. Chima 4D was full of action and adventure and there was wind, snow, rain and fire to behold! It was fantastic.
With Chima 4D over, we were off to Duplo Valley for our MADs finalists group photo. I was keen to chat to other bloggers but was outnumbered by Ross and Grace and so we were off to explore the park!
We started at the boating school, moved on to Atlantis and fitted in as many rides as we could before our hungry tummies got the better of us! As it was Fathers Day, we decided to treat Ross to an all-you-can-eat buffet in Bricks Restaurant which is inside the hotel (another place we had a pass to). The food was gorgeous and I was rather impressed with the chips which were in the form of Lego bricks!
There were more rides including the 'Pirate Falls Dynamite Drench' – and they weren't ruddy joking either!' – where Sally managed to capture our turn on video and interviewed a rather damp looking me afterwards (see the video below!). We visited the Lego Star Wars exhibit which has been upgraded since Grace and I visited last summer.
One of the most invaluable things we did do was purchase one of the Legoland refill cups which meant for £7.50 we were able to top our drink up as many times as we wanted throughout the day – we shared this.
Our favourite thing of the day? Well, this in particular was Grace and Ross' thing. Soaking all the people on the Log Flume as they got to the end. Just when you think you are over getting wet, the people on dry land are able to press a bunch of buttons and shoot water out of cannons at them. Grace and Ross became masters at timing it just right!
Our last ride of the day on the fabulous Dragon (we went round twice!) we decided to call it a day but not before picking up some photos of the day to put up in our new house (4 for £20) and saying a fond farewell to some of the bloggers we met along the way.
Sometimes words just aren't enough so to give you a better idea of our day there are a whole bunch of photos and a video below for you to peruse at your leisure!
A massive thank you to the MAD Blog Awards and Legoland Windsor for giving us a day out to remember, we will never forget it.

I am linking this post to Magic Moments over at The Olivers Madhouse and Country Kids at Coombemill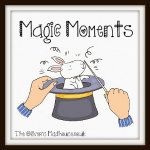 Copyright protected by Digiprove © 2016 Victoria Welton