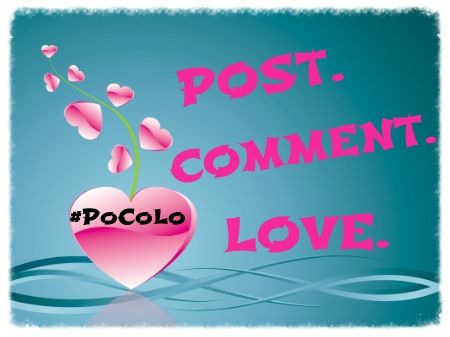 First of all a massive thank you to the wonderful Jaime over at The Olivers Madhouse and the very lovely Zaz from Mama – and More for taking care of business last two weeks whilst I have been doing something reminiscent of the Scarlet Pimpernel. The week before last saw BritMums Live and an offer from Zaz to look after Post Comment Love (despite the fact I hadn't planned to put the link up at all!) and then last week I was off on holiday so Jaime kindly stepped in.
I am hoping things will now start to settle down into a routine. We get broadband up and running today, Grace starts her new school and I have a house to unpack whilst my wonderful man earns the money!
This week I am back on PoCoLo form – and I can't ruddy wait quite frankly. I have missed my weekend reads and am looking forward to all the reading, commenting and tweeting out your posts.
So,if you are new here before, Post Comment Love is all about sharing posts which you have written this week which just haven't got the attention they deserve and, with them all in one place, we can help each other share the comment love. This is one of the easiest links EVER. You don't have a 'special theme' to have to write about, the post can be personal, sponsored, a photo, a review, a competition, your own linky, something you've linked to a linky….WHATEVER you like – it's one you've already written this week! If you want some publicity and attention, then you are in the right place!
The only rules are that you comment on at least two of the other posts in the link (maybe the one above and one below yours?!) and then spread the #PoCoLo about this link up on Twitter.  The post you link up has to have been written in the last week.  The link will go up every Friday and close on Sunday evening at 8pm.
Remember, the more people who link up, the more attention your post is likely to get so please spread the Post Comment Love word and #PoCoLo.  Leave your Twitter handle and link entry number below if you would like a shout-out on Twitter (I'll probably tweet you anyway but if I don't get round to it then I'll make sure I tweet the ones in the comments). Also, don't forget to display the PoCoLo Badge (code below), again the more people who see it, the more attention your lonely post will get.
I have a list for the Newbie Showcase running into November. If you would like to be featured then please email me at vickywelton@hotmail.com so I can put you on the rota. Remember, your blog needs to be under a year old to feature.
This weeks Newbie Showcase is my fab blogging friend, Jaime, over at The Oliver's Madhouse and, yes, like me she's been blogging less than a year! If you haven't visited her yet, heres your chance!
Who is Jaime Oliver? Well, for starters, I am a 30 something married Mum of 2 (Bethany who is 12 and Joshua who is 2). I also happen to be anally retentive obsessive about being organised and I love to clean …. Ok shoot me now! I love to read and take pictures and I love Pepsi Max and cake! This in turn leads me onto my on-going weight loss journey in which I play hockey and attend several Boot Camps per week in order to ditch the weight. I am also a lover of the exclamation mark!
If I am honest … and I might as well be since I blog about just about everything! I never wanted to be a stay at home Mum – don't get me wrong I love time with my children but I always felt the need to work. However after a forced departure from the paid employment world I have now settled into a rather fabulous role as a stay at home parent and I am LOVING it! .. Who'd have guessed it?
I started blogging to keep my mind active as I am not naturally 'maternal' and do enjoy my 'own' thing, hence the birth of my blogging journey. Initially it was to find an adult area that Thomas the Tank was not necessarily involved in. I love both my children dearly but hell don't we all need something for us? – Blogging combined both for me.
The Oliver's Madhouse is based on the things we do as a family and the things we come across on our journey. After starting blogging I discovered that this online diary is a great outlet for asking for advice and support and this has led to a whole blogasphere of people and methods of communication that I never would have guessed were out there. I initially hated Twitter but now you can see me pretty much tweeting 27/7 and I often run out of tweets on a Monday as I tweet about my blogger linkyMagic Moments so feel free to tweet me anytime (@oliversmadhouse) I will tweet you back as soon as I can.
Please do pop over and visit I certainly don't bite, however I am a rubbish cook so please don't expect cakes or lunch you may just run for a bucket … I can't be good at everything … right?!
Please show your PoCoLo to our Newbie Showcase and also remember to visit lots of the lovely linkers below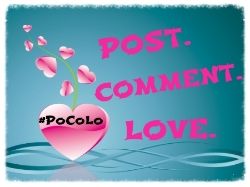 <div align="center"><a href="https://www.vevivos.com/post-comment-love" title="Post Comment Love"><img src=" http://i1322.photobucket.com/albums/u568/ToriWel/4e4a1bf6-07cb-494b-b06e-f959b1fe1311_zps654d027a.jpg" alt="Post Comment Love" style="border:none;" /></a></div>