Thank you so much to Helen from All At Sea who took very good care of Prose For Thought for me last week whilst I was on my holiday. Also, apologies to those of you who have linked up for the last couple of weeks – I really have been a rather elusive host due to the house move, BritMums Live and then the holiday. I am still a little elusive today as well I'm afraid as I am still waiting for broadband to be connected up at our new house – thank goodness for my iPhone! At least I can round to reading all of the fantastic poems that link up.
I also edited my first poetry round-up at BritMums yesterday. Why not go over and take a look? http://www.britmums.com/2013/07/poetry-and-prose-dreams-and-haiku/
So, on to today's poem. As we've just moved to a new house, I got to thinking what the house held before us and what is going to happen now. Here's the result.
HOUSE
House, tell me, what do you hold?
Memories from days of old
Loves young dream and a family
Laughter, tears, friends round for tea
And now we're here to give you more
Of what goes on behind your door
We form a future inside your walls
Our echoes ring around your halls
A hope that burns so very bright
As each day turns into night
As our lives permeate your plaster
We hope for our happily ever after
Copyright Victoria Welton 3rd July 2013
I would really love and appreciate your comments below – and please, go and visit and comment on, the poems from the people who link up 
If you have your own poem or piece of prose to share then grab my badge code and click the link below to enter your post. If you share a link back to my page in your post then you will be guaranteed some free publicity from me on Twitter! Don't forget to use #Prose4T when tweeting your post.  Check out the Prose for Thought page for full details.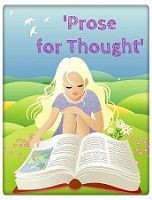 <div align="center"><a href="https://www.vevivos.com/prose-for-thought" title="Prose for Thought"><img src=" http://i1322.photobucket.com/albums/u568/ToriWel/Proseimagesmall_zps637beb08.jpg " alt="Prose for Thought" style="border:none;" /></a></div>