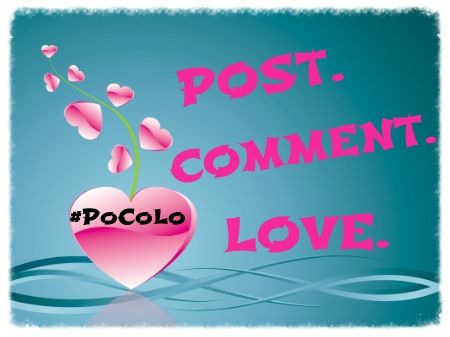 Firstly I have an advance apology to make. We exchanged contracts on our purchase yesterday so packing now needs to be stepped up a notch. Tomorrow I am filming something special for a friend to help raise awareness for autism – she will be putting the film into festivals. Then on Sunday we are off to the MAD Blog Award finalists day out at Legoland for the whole day. I will unlikely get round everyone's posts in as timely fashion as usual but I will get to you. In my place, Zaz from Mama – and More will be doing your Tweet Outs and commenting on my behalf where I can't get to you all.
This week sees the last Post Comment Love for me for a couple of weeks. Next week I DID say you could all take a break from #PoCoLo-ing all over the place as a majority of the blogging community descends upon London and BritMums Live BUT the lovely Zaz from Mama – and More will be your wonderful host, as she will be holding the fort for all the bloggers not attending. The week after I shall be on a well-needed holiday whereupon the lovely Jaime from The Olivers Madhouse will be looking after you and Post Comment Love.
Just a quick reminder that I am hosting the next BritMums Carnival on 18th June. For more details about this then please go across here. Seeing as I am a finalist in the Video Category at the BiBs, the subject is 'You've Been Famed' and I would like you to send me any of your funny or embarrassing moments. It's a great way to look through some different posts and have a bit of a laugh at the same time. If you would like to be included in my round-up – and get some more traffic to your blog – then please email me at vickywelton@hotmail.com
So,if you haven't been here before, Post Comment Love is all about sharing posts which you have written this week which just haven't got the attention they deserve and, with them all in one place, we can help each other share the comment love. This is one of the easiest links EVER. You don't have a 'special theme' to have to write about, the post can be personal, sponsored, a photo, a review, a competition, your own linky, something you've linked to a linky….WHATEVER you like – it's one you've already written this week! If you want some publicity and attention, then you are in the right place!
The only rules are that you comment on at least two of the other posts in the link (maybe the one above and one below yours?!) and then spread the #PoCoLo about this link up on Twitter.  The post you link up has to have been written in the last week.  The link will go up every Friday and close on Sunday evening at 8pm.
Remember, the more people who link up, the more attention your post is likely to get so please spread the Post Comment Love word and #PoCoLo.  Leave your Twitter handle and link entry number below if you would like a shout-out on Twitter (I'll probably tweet you anyway but if I don't get round to it then I'll make sure I tweet the ones in the comments). Also, don't forget to display the PoCoLo Badge (code below), again the more people who see it, the more attention your lonely post will get.
I have a list for the Newbie Showcase running into December now! If you would like to be featured then please email me at vickywelton@hotmail.com so I can put you on the rota. Remember, your blog needs to be under a year old to feature.
So, without further ado, please welcome this weeks newbie showcase  Keren Baker:
I'm living in the home of the Beatles (not their actual house, but you get my drift!). At the moment I'm lucky enough to have 2 occupations; the most important one being mum to 5 noisy yet supremely precious kids & wife to one very long suffering husband. For my paid occupation (& wouldn't I love to be paid for the former!) it's best described as a creative job involving creating, demonstrating & teaching. Without wanting to bore you all to tears, I papercraft for a living (albeit a fairly small living!).Blogging is part of that. A wonderful part.
I began about 4 years ago with my creative blog. www.kerenbaker.wordpress.com It's a mix of artistic creations & family funnies. About 3 months ago one of my newly made Twitter friends suggested I lose the craft & concentrate on the family stuff. I jumped at the chance. At  last I could wax lyrical about parenting, its downs and ups & be myself.
The thing is, its all very public isn't it; Twitter, Facebook etc. & what I thought would be personal, became something my teens actually found online and decided to read. Whilst I wasn't airing any dirty linen, I realised I needed to stop talking about family stuff, or only speak of the good stuff or speak in code. Perhaps I should simply create private posts instead?! If any of you have any brilliant ideas, I'm all ears.
So my creative blog is in full swing, my family blog www.6kidsplusme.wordpress.com has been a little less loved. I do love the whole Twitter experience and whilst work has seen me a less frequent user recently, my handle is @CraftStampInk. You can find me on Facebook (Keren Baker) and Pinterest (craftstampink). Please say Hi & give me the impetus to get writing again. Any suggestions for my dilemma gratefully received!
Wow! Keren you are one very busy lady. Please visit at least one of her blogs and give her a helping hand. In the process, please don't forget all the lovely bloggers below too!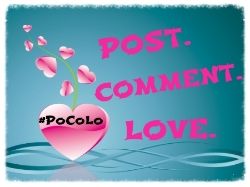 <div align="center"><a href="https://www.vevivos.com/post-comment-love" title="Post Comment Love"><img src=" http://i1322.photobucket.com/albums/u568/ToriWel/4e4a1bf6-07cb-494b-b06e-f959b1fe1311_zps654d027a.jpg" alt="Post Comment Love" style="border:none;" /></a></div>