This week I have been entrusted with the Magic Moments link by the lovely Jaime from The Olivers Madhouse. I have no doubt that she is off creating plenty of Magic Moments to share with us all and I hope that she is having a wonderful holiday. In the meantime, I shall be hoping that it is a Magic Moment for the young lady I have on a driving test this morning.
I am waiting to hear on two things today which are rather important to me and am crossing my fingers that at least one of them come off. If/when they do then I shall be sharing them all with you as my Magic Moment this week.
Grace has a Magic Moment today too. She is having a play date with as many of her classmates as possible after school at the local playground and playing fields and we shall be sharing a picnic. This is a chance to have some fun and say goodbye to them all before we leave for pastures new.
I don't normally get round to reading everyone's posts on Magic Moments- especially after a weekend of PoCoLo – but I am looking forward to having the responsibility of doing so this week in between packing for our house move.
With such a large crowd linking in please don't think you have to comment on every one, I know many of you don't have time for this and it's unrealistic. However please visit as many as you can manage,If that's only a few that's fine. Linky's after all are about spreading some linky love to others.
If your new and would like to find out more about how you link up then please feel free to read about the Magic Moments here. If you'd like to grab the badge, then just copy and paste the HTML code below.
Next week Magic Moments will be back where it belongs. Then it will be Jaime's turn to repay me the favour 😉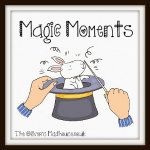 <br />
<a href="http://theoliversmadhouse.co.uk/magic-moments/"><br />
<img src="http://i1303.photobucket.com/albums/ag146/theoliversmadhouse/magicmoments150x150_zps58f60c40.jpg"/></a>