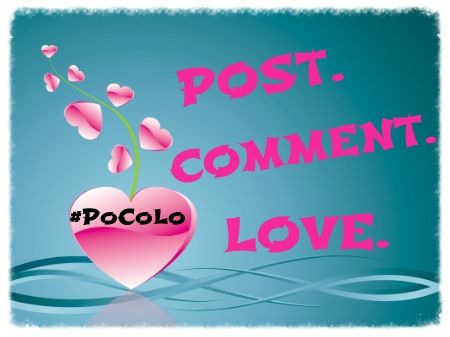 When I typed June in the title of this post, I couldn't quite believe it! This month is going to hold some massive changes for me, Ross and Grace and it is going to be a rather hectic one too. We are moving. In less than three weeks! 124 miles away. I'm excited and scared all at the same time! In amongst all this we are off to Legoland as part of the MAD Blog Award finalists, we have BritMums Live AND the Monday after that we are off on a Keycamps Holiday to Brittany thanks to The Baby Website. Of course we also have Shoulder to Shoulder to Day still running too – with a few changes. If you find I'm a bit elusive over the next couple of weeks you now know why!
Anyway, down to business. If you haven't been here before, Post Comment Love is all about sharing posts which you have written this week which just haven't got the attention they deserve and, with them all in one place, we can help each other share the comment love. This is one of the easiest links EVER. You don't have a 'special theme' to have to write about, the post can be personal, sponsored, a photo, a review, a competition, your own linky, something you've linked to a linky….WHATEVER you like – it's one you've already written this week! If you want some publicity and attention, then you are in the right place!
The only rules are that you comment on at least two of the other posts in the link (maybe the one above and one below yours?!) and then spread the #PoCoLo about this link up on Twitter.  The post you link up has to have been written in the last week.  The link will go up every Friday and close on Sunday evening at 8pm.
Remember, the more people who link up, the more attention your post is likely to get so please spread the Post Comment Love word and #PoCoLo.  Leave your Twitter handle and link entry number below if you would like a shout-out on Twitter (I'll probably tweet you anyway but if I don't get round to it then I'll make sure I tweet the ones in the comments). Also, don't forget to display the PoCoLo Badge (code below), again the more people who see it, the more attention your lonely post will get.
I have a list for the Newbie Showcase running into October. If you would like to be featured then please email me at vickywelton@hotmail.com so I can put you on the rota. I must apologise to a couple of you who have emailed me over the last week for not getting back to you yet – I WILL get to you, I promise!   (Remember, your blog needs to be under a year old to feature)
This week's Newbie Showcase is the lovely amummymuses. She is a regular linker to PoCoLo and her blog always stands out for me as 'the one with the shoes'. It's a clean, fresh blog that's easy to read. Take a look below and pick one of her posts to read.
As a first-time mum, I felt the urge to combine looking after my daughter with doing something I'd never done before.
I also wanted to document the journey of being a first time mum navigating her way through the ups, downs, insecurities and adventures in North London. As such, with encouragement from my husband, one of my besties and my book club girls, last December my blogging life kicked off.
A snapshot – 5 things about me:
1) My husband ( 
Throb) and I have been married for just over a year and have known each other for over ten. I talk about lessons learnt during our first year of marriage here –http://amummymuses.wordpress.com/2013/05/03/over-365-days-of-ticking-the-married-box/
2) Our daughter (Gem) is just over ten months old and one of my posts –http://amummymuses.wordpress.com/2013/01/07/the-apparent-mundanity-of-mummyhood/ – expresses the dichotomy I sometimes feel staying at home to look after her, as this is the most awesome job in the world but could be the most mundane as well.
3) I've come to realise that although I love my Gem-of-a-daughter to bits, I need time to myself every now and again to breathe. I believe this helps me to be a better mum and I talk about this in one of my favourite posts – http://amummymuses.wordpress.com/2013/03/20/4-50-worth-of-valuable-nerve-racking-me-time/
4) I'm a North London soon to be Hertfordshire mum so relishing the new challenges that life in the sticks will bring and I blogged about our house search here – http://amummymuses.wordpress.com/2013/01/03/ten-rules-for-successful-house-hunting/
5) I believe in women sticking together and supporting each other. As such, I've got very little patience for women that put other women down – http://amummymuses.wordpress.com/2013/04/10/what-is-the-point-of-ms-hopkins/
Please check out my blog at http://www.amummymuses.wordpress.com and/or wave on Twitter at @amummymuses. Please do check out other #pocolo blog linkers below.
Shout out to Vicky Welton for this fabulous linky and showcase opportunity xx
What more do I need to say?! Thanks lovely lady.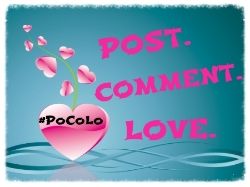 <div align="center"><a href="https://www.vevivos.com/post-comment-love" title="Post Comment Love"><img src=" http://i1322.photobucket.com/albums/u568/ToriWel/4e4a1bf6-07cb-494b-b06e-f959b1fe1311_zps654d027a.jpg" alt="Post Comment Love" style="border:none;" /></a></div>