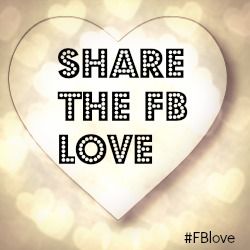 This week the lovely PhotoMummy is off on her holidays (the luck thing!) so today she has entrusted me and therefore I am afraid that you are going to have to put up with yours truly hosting the Facebook Love linky 😉
This is a link that she started following a comment she made over at Britmums. She set people a challenge to see if she could get so many likes on my FaceBook Page before a certain time because she was feeling a bit lonely and – in her words – 'maybe a tiny bit jealous of other Blog pages I had come across with all their liker's and followers'. This then prompted a 'likey love in' resulting in her being into double figures,
So, why not have a link up for those who are maybe feeling a bit like she was and thus Share the Facebook Love was born.
The Linky runs fortnightly and will be back with Photomummy next time. So please, support her whilst she is away (and help her see I am doing the job properly in her absence!)
The rules are simple.
Add your link to your Facebook page in the linkytools section and leave your Twitter name in a comment below so everyone can get following too.
Then:
Comment on a Bloggers FB page and tweet them with #FBlove, they then should like and follow back.
You can also tweet both me @vicwelton and @photomummy to let me know you have joined in.
So what do you think? Would you like to share the FB love?
Facebook page to facebook page likes do not show up in page stats,only personal likes do so like the page from a personal account if you can