I haven't been to the circus since I was a child. I remember going to one just up the road from my house in the days when animals were accepted as part of the routine.
Times have changed and these days it is just humans providing the entertainment but I don't mean 'just' in a dismissive way, not after what I witnessed at Billy Smarts Circus.
During the previous week, Grace and I noticed that the Billy Smarts Circus had turned up on the edge of Ascot racecourse. So, as part of my birthday treat, we decided to pay them a visit on Saturday 18th May. We had no idea what to expect but we knew we were promised a lady who could shoot arrows with her feet.
At 1.45pm we took our seats and made sure that we had an unrestricted view. The show started at 2pm and the opening act was Caroline on the swinging trapeze. She was graceful and amazingly skillful. The three of us sat there open-mouthed as she performed some outstanding feats and stunts on her trapeze high above the circus ring.  Then came the first appearance of Angelo the Clown who did a very funny routine to Gangnam Style! Angelo was the act between the acts keeping us all entertained as the efficient circus staff got the equipment ready for each set of performers.
Next came the first of two appearances from the The Cretzu Troupe, the Romanian springboard acrobats. It's no surprise that this amazing group – consisting of three brothers – have won prizes at Circus festivals across Europe. They practice tirelessly in order to perform for us single, double and triple somersaults and each member of the troupe needs perfect timing in order to catch hand-to-foot, on the shoulders or in the high chair.
Eddy Carello then came on to entertain us with his Blues Brothers themed performance. He started by performing to 'Minnie the Moocher' getting the audience to join in. Little did we know what would happen next. This man juggled with a full-sized guitar amongst other things. His finale was an outstanding performance using juggling to play the drums. Outstanding!
Then into the ring came Alex the Fireman. He originally joined the Circus to work with horses and was a cossack rider. This wasn't what he was here to do today though. Telling us a comedic tale of putting out a fire with highly developed trapeze and acrobatic moves with perfect comic timing. Sheer brilliance.
Then it was time for the interval – as demonstrated by Angelo and his crew! Grace used her pocket money to buy one of the many multi coloured light up sticks that were rife in the audience and we tootled off to get Ross a drink. During the interval, the circus crew were putting up a large net in preparation for the next act.
Opening the second half was the perfectly named Flying Aces. Absolutely outstanding. T
his is the first Australian trapeze troupe to perform in Europe. They were full of amazing aerial acrobatics  :).
Angelo was there to entertain us once again, before my favourite act of the afternoon made her appearance. Desiree is an equilibriste, an entertainer who performs balances – her full weight on both hands and sometimes one. She has amazing poise and grace – it was amazing to watch.  The end to her act was the part that left us open-mouthed. She picked up a bow and arrow with her feet, got onto her podium with her hands, arched her feet over
her head and shot the arrow in the balloon that awaited her across the ring.
Next was Josie who gave us a graceful and elegant display on the aerial silks before Angelo performed for us once again. Although, this time it wasn't just Angelo. There was also members of the audience being picked out to entertain us – and one of them was Ross! Along with 3 other audience members, he was juggling and throwing plates around with interesting results! There were
then plenty of broken plates all over the ring which they were then all made to sweep up!
For the finale, the Cretzu troupe were brought out once again to entertain us. With more of them this time, they performed a stunning routine.
Overall, this is a thoroughly enjoyable event for all the family to watch. If you had sat near us then you would have heard me continuously saying 'that's amazing!', Ross saying 'oh my god!' and Grace would be saying nothing, just sitting there open-mouthed.  Please don't miss this outstanding, breath-taking performance full of utterly talented acts. I understand that the following day they performed for the Earl and Countess of Wessex and their children… I wonder if Edward had to do what Ross did?!
Today Billy Smarts Circus opens in Brighton until Sunday 2nd June, then they move on to Chelmsford, Thetford and Bury St Edmunds. You can book your tickets here.
I'm linking this post to Jaime's blog The Olivers Madhouse. and her #MagicMoments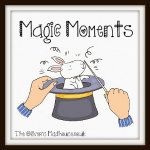 With many thanks to all the staff and performers at Billy Smarts Circus for providing us with complimentary tickets to see the show.