Firstly many thanks to Charly over at PODcast for being our lovely host yesterday. Today was supposed to be  Mummy Glitzer's turn at hosting Emma's linky but not only has she had a problem with her computer thus rendering it useless, she is also poorly. Get better soon lovely. I am pleased to say that Mummy Glitzer and Charly at PODcast have both agreed to help out on the social media sharing today. Thanks ladies 🙂
So, you are all going to have to put up with me again I'm afraid! Well…I say that…it's mainly going to be all about Grace! First though I  would like to say that – and I am sure I speak for Phil at Fragments from Firefly Phil. when I say this – we are astounded at the support and attention that you lovely people have given to Emma Day over at Crazy with Twins and we aren't even at the halfway point yet! There has been funny posts, cute posts, videos, jokes, gifts, TV appearances, Radio appearances and photos – all of which can be found in all the posts linking up below. Please go and give all these lovely bloggers a bit of your time to read what they have written.
Please remember that Emma and Sarah over at Mum of Three World are running the Race For Life in Cheltenham on Saturday 7th July. Please go across to Emma's page here and Sarah's page here to sponsor.  We are also arranging a collection for Emma in order to arrange an amazing surprise for her, so please email me at vickywelton@hotmail.com if you would like to contribute. The wonderful blogger donating this will be announcing it soon.
In case you didn't know, Emma is now at home but still can't cuddle her lovely family but she is on count down to 5th June to cuddle her husband, Jon, next is her 6 year old daughter on 11th June and finally the one year old twins on, aptly, Fathers Day 16th June.
Today I have decided to dig out a couple of videos which I made of Grace. The first one is the video I made of her canvassing for MAD Blog Award votes for me – how on earth she know the right terminology to end the video I do not know! Then, the other video is an interview which still cracks me up every time I watch it. I've just realised she has her favourite leotard on in both clips! She does have other clothes, honest! I hope you enjoy them Emma! 🙂
Please share your post all over the social media network, grab the badge from below and if you are tweeting please use #S2S2D and include @crazywithtwins in your tweet. Tomorrow I hand you over to the wonderful MummyPinkWellies.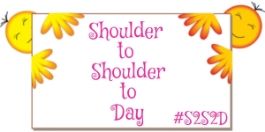 <div align="center"><a href="https://www.vevivos.com/2013/05/22/title-shoulder-to-shoulder-to-day-22-may/" title="Shoulder to Shoulder to Day"><img src=" http://i1322.photobucket.com/albums/u568/ToriWel/811fe3d0-1420-4987-9719-6c146ee76adb_zps87798b9c.jpg" alt="Shoulder to Shoulder to Day" style="border:none;" /></a></div>