So today Phil and I have handed the baton for Shoulder to Shoulder to Day over to Suzanne at 3 Children and It.  However, I intend to continue linking up happy posts for Emma and try my best to support every single host. Prose for Thought today is no exception.
Yesterday afternoon I was sitting in Costa Coffee working on my laptop when I found out that I am in the final of the BiBs for the Video Category. It got me thinking how much my life has turned around over the last couple of years and how truly happy I really am. Properly. Really properly for the first time in my life. We also found out our house move is a definite yesterday too. Everything seems to be coming together! It deserved a poem and the result is below.  Before you delve in, I just wanted to say thank you once again to the faithful band of Prose for Thought linkers – you are all amazingly talented people and I feel honoured to be in your company.
Happiness
A great big grin from ear to ear
I really am so full of cheer
I'm happy that my life's is great
That I've got no one I need to hate
People there cause I want them to be
I'm surrounded by ones that matter to me
They bring me joy and treat me well
My heart with great pride does swell
I love my daughter, love my man
Love my family as best I can
You all mean the world to me
On and on through eternity
© Victoria Welton 22nd May 2013
I would really love and appreciate your comments below – and please, go and visit and comment on, the poems from the people who link up 
If you have your own poem or piece of prose to share then grab my badge code and click the link below to enter your post. If you share a link back to my page in your post then you will be guaranteed some free publicity from me on Twitter! Don't forget to use #Prose4T when tweeting your post (and #NaPoWriMo this week).  Check out the Prose for Thought page for full details.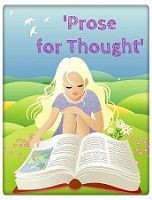 <div align="center"><a href="https://www.vevivos.com/prose-for-thought" title="Prose for Thought"><img src=" http://i1322.photobucket.com/albums/u568/ToriWel/Proseimagesmall_zps637beb08.jpg " alt="Prose for Thought" style="border:none;" /></a></div>
I'm also linking Prose for Thought to this week's Wednesday Words over at Crazy with Twins