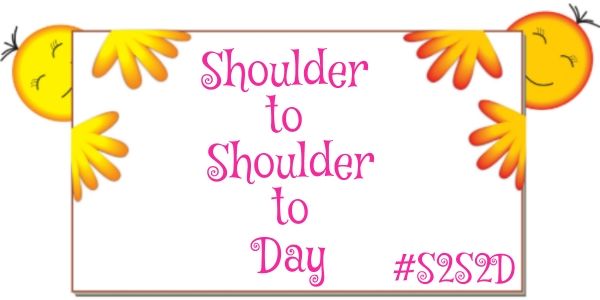 Today (May 22) marks the beginning of a new phase of treatment for our friend Emma Day, who blogs at Crazy with Twins and tweets as @crazywithtwins . A further strike against cancer (she has already had surgery – see her blog) involves the internal use of radioactive iodine. This in turn means that she will be emitting radiation from her body that is dangerous to others, especially small children. As a result, she will be, as it were, on 'the wrong side of the line' from her family – and unable to reach out and cuddle her beloved baby girl
twins for over thirty days! As a Mum I can only imagine how hard that will feel for her. A series of blog posts from those of us who know Emma – and her husband and family – via the blogging community will accompany her on this journey, under the general heading 'Shoulder to Shoulder to Day'. I have the honour to open this, along with Phil over at Fragments from Firefly Phil.
We have had an amazing response from numerous bloggers and there will be at least one host per day on this piece of blogging sunshine. Each day between now and 23rd June you will be able to link up a funny, cheerful, amusing or happy post that will be shared with Emma by that host throughout their day on the rota. You are more than welcome to link up more than one post throughout the hop – I know I will be! All details of the blog hosts rota and posts to be written can be found here.
If you are using twitter then please tweet using #S2S2D and we are also running a pinterest board – http://pinterest.com/toriwel/shoulder-to-shoulder-to-day Share on any social media you choose. If your post is for Shoulder to Shoulder today then please display the badge. The code is at the bottom of this post.
Another blogger has kindly made a lovely offer for Emma and all will be revealed when it is her turn to host. In the meantime, if you would like to find out more and make a contribution then please email me: vickywelton@hotmail.com and put in the subject 'Emma's Collection'.
So, onto my piece of sunshine! One of the things has always cheered me up is jokes. In particular, Tommy Cooper-style puns which are VERY funny and always amuse me. Some of my favourites are listed below. Emma – I hope they bring a smile to your face and chuckle to your belly 🙂
A guy walks into the psychiatrist wearing only Clingfilm for shorts. The shrink says, "Well, I can clearly see you're nuts."
I went to buy some camouflage trousers the other day but I couldn't find any.
I went to the butchers the other day and I bet him 50 quid that he couldn't reach the meat off the top shelf. He said, "No, the steaks are too high."
My friend drowned in a bowl of muesli. A strong currant pulled him in.
A man came round in hospital after a serious accident. He shouted, "Doctor, doctor, I can't feel my legs!" The doctor replied, "I know you can't, I've cut your arms off".
I went to a seafood disco last week…and pulled a muscle.
Two Eskimos sitting in a kayak were chilly. They lit a fire in the craft, it sank, proving once and for all that you can't have your kayak and heat it.
Our ice cream man was found lying on the floor of his van covered with hundreds and thousands. Police say that he topped himself.
Man goes to the doctor, with a strawberry growing out of his head. Doc says "I'll give you some cream to put on it."
'Doc I can't stop singing The Green, Green Grass of Home' "That sounds like Tom Jones syndrome. 'Is it common?' "It's not unusual."
A man takes his Rotteweiller to the vet. "My dog is cross-eyed, is there anything you can do for him?" "Well," said the vet, "let's have a look at him." So he picks the dog up and examines his eyes, then he checks his teeth. Finally, he says, "I'm going to have to put him down." "What? Because he's cross-eyed?" "No, because he's really heavy"
Guy goes into the doctor's. "Doc, I've got a cricket ball stuck up my backside." How's that?" Don't you start."
Two elephants walk off a cliff…boom, boom!
What do you call a fish with no eyes? A fsh.
So I was getting into my car, and this bloke says to me "Can you give me a lift?" I said "Sure, you look great, the world's your oyster, go for it.'
Apparently, 1 in 5 people in the world are Chinese. There are 5 people in my family, so it must be one of them. It's either my Mum or my Dad, or my older Brother Colin, or my younger Brother Ho-Cha-Chu? But I think its Colin.
Police arrested two kids yesterday, one was drinking battery acid, and the other was eating fireworks. They charged one and let the other one off.
"You know, somebody actually complimented me on my driving today. They left a little note on the windscreen. It said, 'Parking Fine.' So that was nice."
A man walked into the doctors, he said, "I've hurt my arm in several places" The doctor said, "Well don't go there anymore"
Ireland's worst air disaster occurred early this morning when a small two-seater Cessna plane crashed into a cemetery. Irish search and rescue workers have recovered 1826 bodies so far and expect that number to climb as digging continues into the night
Heard the one about two aerials meeting on a roof, falling in love, and getting married? The ceremony was rubbish but the reception was brilliant.
I saw the aftermath of an explosion at a French cheese factory. All that was left was De Brie.
If you have a funny, cheerful, amusing or happy post that you would like to share with Emma then please link up below, display the badge and tweet using #S2S2D and include @crazywithtwins
Tomorrow we pass the host baton on to Suzanne at 3 Children and It.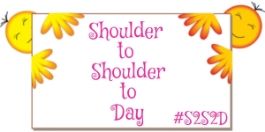 <div align="center"><a href="https://www.vevivos.com/2013/05/16/shoulder-to-shoulder-to-day-the-rota-and-details/" title="Shoulder to Shoulder to Day"><img src=" http://i1322.photobucket.com/albums/u568/ToriWel/811fe3d0-1420-4987-9719-6c146ee76adb_zps87798b9c.jpg" alt="Shoulder to Shoulder to Day" style="border:none;" /></a></div>
Copyright protected by Digiprove © 2017 Victoria Welton