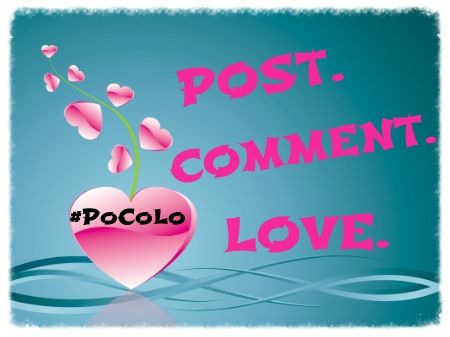 This week I need to make an apology in advance if I am a bit elusive. Today I shall be at the Mums Show Live and speaking on one of their panels- details are in a previous blog post here.  Tomorrow is my birthday and we are off for a trip to the Circus – details here – then it's on to Dr Who and the Eurovision Song Contest in the evening with friends (we are all bringing food from some of the countries taking part) and on Sunday I am going out for lunch with my family. Phew! I am still going to make every effort to get round to all the linkers, it may just take me a day longer than usual!
Last week saw the most successful PoCoLo ever with 62 linkers – thank you so much :). If you still don't know what it's all about then Post Comment Love is all about sharing posts which you have written this week which just haven't got the attention they deserve and, with them all in one place, we can help each other share the comment love. This is one of the easiest links EVER. You don't have a 'special theme' to have to write about, the post can be personal, sponsored, a photo, a review, a competition, your own linky, something you've linked to a linky….WHATEVER you like – it's one you've already written this week! If you want some publicity and attention, then you are in the right place!
The only rules are that you comment on at least two of the other posts in the link (maybe the one above and one below yours?!) and then spread the #PoCoLo about this link up on Twitter.  The post you link up has to have been written in the last week.  The link will go up every Friday and close on Sunday evening at 8pm.
Remember, the more people who link up, the more attention your post is likely to get so please spread the Post Comment Love word and #PoCoLo.  Leave your Twitter handle and link entry number below if you would like a shout-out on Twitter (I'll probably tweet you anyway but if I don't get round to it then I'll make sure I tweet the ones in the comments). Also, don't forget to display the PoCoLo Badge (code below), again the more people who see it, the more attention your lonely post will get.
I have a list for the Newbie Showcase running into October. If you would like to be featured then please email me at vickywelton@hotmail.com so I can put you on the rota. Remember, your blog needs to be under a year old.
This week's Newbie Showcase is Vicky from The Loving Parent. She has been a regular linker with PoCoLo and I have always looked forward to reading her intriguing posts. I'll hand you over to her.
"I set up The Loving Parent in January as a means to give a voice to that part of me that seemed a little wiser, a little more sensible, a little (lot) more patient than the Real Me and was always, unconditionally, loving. It is perhaps my 'intuition', if you like, or maybe even my 'higher self' (if you're into that sort of thing!) Very often, I found myself in parenting scenarios where I could sense the bigger picture, or had an awareness of what I 'should' be doing (if I was perfect) but I couldn't actually bring it into the moment! I was too tired, too impatient, too hungry or just too damn human! So I created The Loving Mother. I started to write down my experiences and gave The Loving Mother an opportunity to comment and feedback to the real me. By reflecting in this way, I've found that I've been able to truly learn and grow from my parenting experiences, whilst having lots of fun along the way!
A friend of mine, a psychotherapist, read my blog one day and spontaneously wrote a reply, in the voice of The Loving Father. So now he's in on it too! It's great to get a male perspective on some of the tricky issues that have come up – such as a young child's sexuality or gender stereotypes or discussing sex – and to get a psychological perspective on issues such as the role of imaginary characters (Santa and the Tooth Fairy), sibling rivalry and the big questions.
Online, I am The OWL (the One Who Learns) from Cyberspace with children Lily (she's 7) and twin boys Toby and Dylan (they're 6). In real life I am Vicky from Surrey with three remarkably similar children (!) but who happen to go by different names."
The Loving Parent is on Facebook –  https://www.facebook.com/TheLovingParent  and Twitter – @TheLovingParent.
So please go across and visit Vicky's fascinating blog and also, some of the lovely linkers below: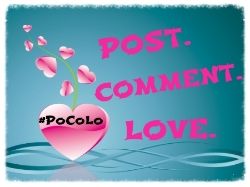 <div align="center"><a href="https://www.vevivos.com/post-comment-love" title="Post Comment Love"><img src=" http://i1322.photobucket.com/albums/u568/ToriWel/4e4a1bf6-07cb-494b-b06e-f959b1fe1311_zps654d027a.jpg" alt="Post Comment Love" style="border:none;" /></a></div>
Copyright protected by Digiprove © 2016 Victoria Welton