Last week saw the most linkers so far to our lovely group of poetry writers. I have become very proud of this link up, mainly due to the amazing talents that showcase their work here. I am truly grateful for your support.
This week I am exposing myself in the biggest way I think possible, even bigger to me than getting naked! I am not only sharing with you a song I wrote but also sung…on stage back in 2011… and attached is the recording of this same song.  This is the demo recording we did in my flat with two very talented musicians – Angela McCarthy and Andrew Smith.  On stage every night I would sing it to Ross who was up in the lighting gallery doing sound. I wrote all the verses and a friend of mine wrote the chorus. One day I may get round to uploading the video of me on stage singing it but for now I believe I am exposing myself enough. Be kind please!
Be With You
Why is it everytime I try
Spread my wings and wanna fly
Theres a shadow hanging over me
Why is it when I get so near
Is it then I feel a fear
A kind of shadow hanging over me
(Chorus)
But you see the meaning
And I feel the feeling
That I wanna be with you
Not for just the good times
Travellin long the fine lines
And I wanna be with you
What if I said that I love you
But you didn't love me too
Tell me just how I would handle this
And I'm so filled with dread and fear
I have shed many a tear
Not knowing how to handle this
(Chorus)
Now I look deep into your eyes
And I don't need to disguise
Just how my heart can feel for you
Oh, to you I will stay true
I'm forever holding you
This is how my heart will feel for you
© 6/12/09 Victoria Welton
I would really love and appreciate your comments below – and please, go and visit and comment on, the poems from the people who link up 
If you have your own poem or piece of prose to share then grab my badge code and click the link below to enter your post. If you share a link back to my page in your post then you will be guaranteed some free publicity from me on Twitter! Don't forget to use #Prose4T when tweeting your post (and #NaPoWriMo this week).  Check out the Prose for Thought page for full details.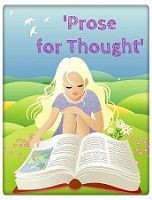 <div align="center"><a href="https://www.vevivos.com/prose-for-thought" title="Prose for Thought"><img src=" http://i1322.photobucket.com/albums/u568/ToriWel/Proseimagesmall_zps637beb08.jpg " alt="Prose for Thought" style="border:none;" /></a></div>
I'm also linking Prose for Thought to this week's Wednesday Words over at Crazy with Twins