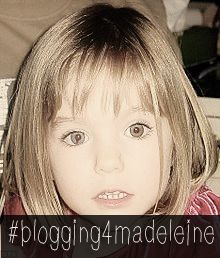 Today I am joining the Blogging For Madeleine Campaign – #Blogging4Madeleine – hosted by the lovely Caroline over at A Mummys View. Today is Madeleine McCann's 10th Birthday.
Madeleine went missing on Thursday 3rd May 2007 whilst on holiday with her family in Praia da Luz, Portugal. I remember it well. I was living with my Mum and Grace was only 4 months old. As a new parent, I remember feeling this overwhelming fear and utter sympathy for Gerry and Kate McCann. They must have felt so desperate that day and I often wonder how they must really feel now, missing out on the years they could have spent with their daughter.
Theirs is a nightmare that many other parents also have to live through. There are thousands of missing children in this country and, as a result, many mothers and fathers wondering where their children are and whether they will ever see them again.
This got me thinking how these mothers must be living day to day wondering if they will ever see their babies again and how helpless it must feel for them not being able to protect them.
I have decided to support the campaign with a poem I have written.
A Space in My Heart
Do you remember who I am?
I'd say to you I'm Mum
Time passes like footprints in the sand
You blink and then it's gone
Do you have memories of me at all?
Would you recognise my face?
Losing you when you were so small
In another time and place
Do you know I hold your toys every single night?
To keep the smell of you with me
I cry tears, I sob, wishing with my might
To have you here, where you should be
Are they holding a party for you?
Do they know your date of birth?
It's nothing compared to what I'd do
But my feelings they have no worth
Do you know there's a space in my heart?
The one I save for you
Will we spend our lives apart?
Is that what we must do?
What about the people who hold you now?
Do they ever think of me?
My darling, I promise, this I vow
To keep searching, faithfully
© Victoria Welton 12th May 2013
Gerry and Kate have never given up the search for Madeleine.  The latest image of what they believe she now looks like is here. You can also find out all the latest on the case and the McCanns regular updates on their website – http://www.findmadeleine.com/
If you have any news on sightings or any information, then you are asked to call:
Your local Police force immediately AND
+44 845 838 4699or investigation@findmadeleine.com
OR Crimestoppers in confidence on 0800 555111 or www.crimestoppers-org.uk
Copyright protected by Digiprove © 2016 Victoria Welton