One of the things I love about running this link is the inspiration it seems to give people who wouldn't normally write poetry to actually sit down and give it a try. I had tweets this week from both Lorraine at Gin and Cornflakes and Karen at Woman Wife Mum saying that they had given it a go (I hope the fact that I have now mentioned them, doesn't put them off!). It is great to try something new and it shows that you can do it if you really try!
This week some of you may have read my Magic Moments post,Court Out There! Around two years earlier, I was finally started to realise what I had been through and below is something I wrote at that time. It was written as a song with two verses and a chorus (I have loads of these in my poetry book!).
I'm Free
Walking around with a blindfold on
Didn't see at the time what was so wrong
And now I thank God you are gone
I'm so glad to be moving on
I'm free, my life's so full
I'm free, no more the fool
I'm free, to feel the pull
I'm free, to swim life's pool
I believed you when you said day was night
I now know nothing you did was right
I used my strength, with all my might
I will stand my ground, stand up and fight
I'm free, my life's so full
I'm free, no more the fool
I'm free, to feel the pull
I'm free, to swim life's pool
© Victoria Welton 20th April 2008
Like what you see? Then please consider a vote for this blog in the Brilliance in Blogging Awards (BiBs). I have been shortlisted for Innovate, Video and Social Media. The badges are on the top right in my sidebar – just click on them and they will take you to the voting form. Many thanks for your support!
I would really love and appreciate your comments below – and please, go and visit and comment on, the poems from the people who link up 
If you have your own poem or piece of prose to share then grab my badge code and click the link below to enter your post. If you share a link back to my page in your post then you will be guaranteed some free publicity from me on Twitter! Don't forget to use #Prose4T when tweeting your post (and #NaPoWriMo this week).  Check out the Prose for Thought page for full details.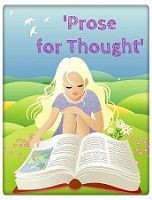 <div align="center"><a href="https://www.vevivos.com/prose-for-thought" title="Prose for Thought"><img src=" http://i1322.photobucket.com/albums/u568/ToriWel/Proseimagesmall_zps637beb08.jpg " alt="Prose for Thought" style="border:none;" /></a></div>
Copyright protected by Digiprove © 2016 Victoria Welton