I am pleased to confirm that I completed NaPoWriMo with 30 new poems which you can find in my final day post. With that all over and done with for this year, I have decided to dig out some poetry from the past.
The poem I am sharing with you was written during the relationship with my ex. I found out afterwards that my suspicions of his infidelity were all true. In total he cheated on me around 9 times and he even bought a house with another woman whilst living with me! He was also sleeping with another woman during my pregnancy. The day Grace was born, he was out of the hospital an hour and a half later and off to see her. (It does make you rather doubt yourself and wonder if there is something wrong with you, but I have got over that now and realise that he is just a complete and utter arse – amongst other things!). Every time I tried to talk to him, to find out what was going on, he protested his innocence and insisted that it was me he wanted to be with!
Anyway, this is just one of the many things I wrote at the time.
Those Lies
I know far more than you think
Oh yes, I've heard the lies
Each call, each evening when you're out
I've seen it in your eyes
You treat me like a nothing
Like some kind of fool
The good little woman at home
Won't approach this, won't lose my cool
You forget I 've since this all before
Once you've closed one of them
You open yet another door
So why am I so surprised
Each time you tell those lies?
© Victoria Welton August 1999
Like what you see? Then please consider a vote for this blog in the Brilliance in Blogging Awards (BiBs). I have been shortlisted for Innovate, Video and Social Media. The badges are on the top right in my sidebar – just click on them and they will take you to the voting form. Many thanks for your support!
I would really love and appreciate your comments below – and please, go and visit and comment on, the poems from the people who link up 
If you have your own poem or piece of prose to share then grab my badge code and click the link below to enter your post. If you share a link back to my page in your post then you will be guaranteed some free publicity from me on Twitter! Don't forget to use #Prose4T when tweeting your post (and #NaPoWriMo this week).  Check out the Prose for Thought page for full details.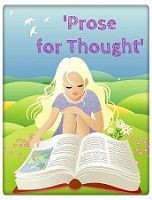 <div align="center"><a href="https://www.vevivos.com/prose-for-thought" title="Prose for Thought"><img src=" http://i1322.photobucket.com/albums/u568/ToriWel/Proseimagesmall_zps637beb08.jpg " alt="Prose for Thought" style="border:none;" /></a></div>