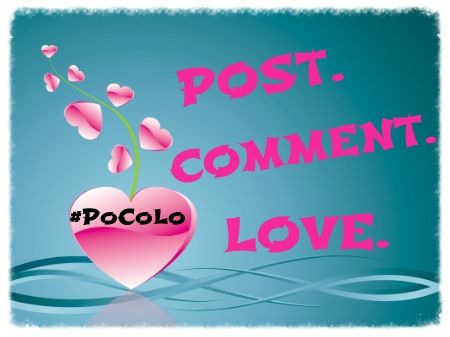 With another week under our belts, here we are again for what is rapidly becoming known as #PoCoLo day in blogger land! I had such an amazing number of linkers last week and lots of new people too, so thank you for your support. As usual there was a fantastic mix of different posts, all of which were an interesting read 🙂
Much has happened this week, I've acted, got my car back, travelled all over the place – as you read this, Ross and I shall be in South Shields – had, two people on their driving tests (one pass, one not) AND the BiB awards shortlist has been announced. I am so chuffed to be in three categories (see my sidebar) so thank you to anyone who put me there, I am eternally grateful for your support.
To those who are new to this, this link is all about sharing posts which you have written this week which just haven't got the attention they deserve and, with them all in one place, we can help each other share the comment love. This is one of the easiest links EVER. You don't have a 'special theme' to have to write about, the post can be personal, sponsored, a photo, a review, a competition, your own linky, something you've linked to a linky….WHATEVER you like – it's one you've already written this week! If you want some publicity and attention, then you are in the right place!
The only rules are that you comment on at least two of the other posts in the link (maybe the one above and one below yours?!) and then spread the #PoCoLo about this link up on Twitter.  The post you link up has to have been written in the last week.  The link will go up every Friday and close on Sunday evening at 8pm.
Remember, the more people who link up, the more attention your post is likely to get so please spread the Post Comment Love word and #PoCoLo.  Leave your Twitter handle and link entry number below if you would like a shout-out on Twitter (I'll probably tweet you anyway but if I don't get round to it then I'll make sure I tweet the ones in the comments). Also, don't forget to display the PoCoLo Badge (code below), again the more people who see it, the more attention your lonely post will get.
The newbie showcase is now booking into August so, if you would like to be featured then please email me at vickywelton@hotmail.com so I can put you on the list. Remember, your blog needs to be under a year old.
This week's Newbie Showcase Blogger is Maddie Sinclair, so pop on over!
Hi! My name is Maddie Sinclair and I blog over at Gammon & Chips. I'm a Stay & Work At Home Mum and live in Brighton with my husband, Doug, and two small children who we nickname 'Gammon' and 'Chips'. Gammon (a boy, Callum) will be 4 in August, and Chips (a girl, Freya) is 16 months old. The name 'Gammon' came about because, well, no toddler that I've come across seems to be able to pronounce 'Callum', and then one day when I was pregnant with Freya we asked Callum what he would like to call his little sister when she finally arrived. As he heartily devoured some of his grandma's renowned homemade potato treats, he answered with a cheeky smile '…Chips'. We laughed at just how perfectly the two names went together, and that was it – they've stuck!
The idea behind the blog is to document all the funny things, no matter how small or insignificant they may seem, that happen in the world of parenting – specifically in the lives of Gammon and Chips, but I also hope that parallels can be drawn for other parents that will inform and, hopefully, amuse. I try to see the beauty in the mundane, and write about the funny side of pregnancy, birth, sleeping, weaning, fun family activities and family-friendly travel.
I started blogging as a way of alleviating the guilt that I feel about living 10,000 miles away from my family (I'm an Aussie, but have lived in the UK for 14 years, so I'm British on paper now too!), forcing them to be a long way away from their cherubic grandchildren, so I thought a blog was a great way for them to be able to see what we get up to. But it's become so much more than that. I didn't realise that the blogosphere was made up of such a strong and supportive community, and I've made some great cyber friends since I started posting in July last year, who have helped me with all sorts of queries and advice, from technical issues to parenting problems and more.
When I'm not mothering (generally in the evenings), I can be found hunched over my laptop at our dining table looking for needles in marketing haystacks – I run my own freelance proofreading and copy editing business, Maddie Sinclair Proofreading. Plus I do a bit of copywriting and freelance article writing, so my blog is a place where I shamelessly parade any published work too.
I would love it if you would come over for a visit and a cup of cyber tea to Gammon & Chips and read a little about our adventures. You can also wave hello to me on Twitter @maddiesinclair or even give me a virtual handshake on Facebook. And I will return the neighbourly good turn, and I'll bring some cyber Jaffa Cakes too!
Mmm, Jaffa Cakes – yes please! Go across and visit Maddie as well as the rest of the lovely linkers below:
Like what you see? Then please consider a vote for this blog in the Brilliance in Blogging Awards (BiBs). I have been shortlisted for Innovate, Video and Social Media. The badges are on the top right in my sidebar – just click on them and they will take you to the voting form. Many thanks for your support!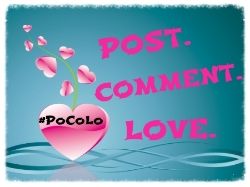 <div align="center"><a href="https://www.vevivos.com/post-comment-love" title="Post Comment Love"><img src=" http://i1322.photobucket.com/albums/u568/ToriWel/4e4a1bf6-07cb-494b-b06e-f959b1fe1311_zps654d027a.jpg" alt="Post Comment Love" style="border:none;" /></a></div>
Copyright protected by Digiprove © 2016 Victoria Welton