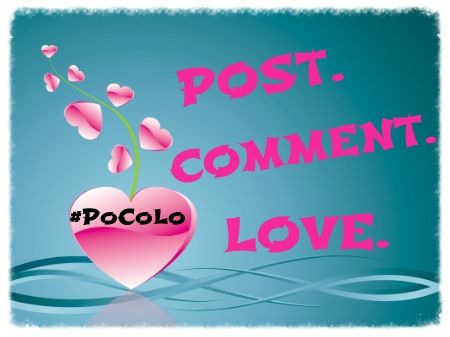 Just where do the weeks go?! I can't believe it is Friday again, but I have to say that I look forward to them even more with this link running. It gives me a chance to read so many great blogs in one place.  I am also pleased to see that the first two newbie showcase bloggers have seen an increase in their blog traffic, Twitter followers and Facebook likers!
This link is all about sharing posts which you have written this week which just haven't got the attention they deserve and, with them all in one place, we can help each other share the comment love. This is one of the easiest links EVER. You don't have a 'special theme' to have to write about, the post can be personal, sponsored, a photo, a review, a competition, your own linky, something you've linked to a linky….WHATEVER you like – it's one you've already written this week!
The only rules are that you comment on at least two of the other posts in the link (maybe the one above and one below yours?!) and then spread the #PoCoLo about this link up on Twitter.  The post you link up has to have been written in the last week.  The link will go up every Friday and close on Sunday evening at 8pm.
Remember, the more people who link up, the more attention your post is likely to get so please spread the Post Comment Love word and #PoCoLo.  Leave your Twitter handle and link entry number below if you would like a shout-out on Twitter. Also, don't forget to display the PoCoLo Badge (code below), again the more people who see it, the more attention your lonely post will get.
The newbie showcase is also proving very popular so if you would like to be featured then please email me at vickywelton@hotmail.com so I can put you on the list. Remember, your blog needs to be under a year old. With that in mind, let's welcome this weeks Newbie Showcase Blogger, Charlie Hughes:
The Mad Mummy Musings Finding some calm amongst the chaos
My name is Charlie and I am a Mum of 2 gorgeous, spirited girls aged 6 and 2. I live in Dorset with my hubby, the girls and our 2 neurotic cats. I turned 40 last year and decided there and then that my want and need to write couldn't wait any longer, so I dived into the blogging world and set up not one, but two blogs! The first is Sophia's Choice (www.sophiaschoiceuk.blogspot.co.uk) which is a blog about organic, natural and eco-friendly products, ideas and classes for all the family. I started this in October 2012.
I knew I also wanted to write a more personal blog too where I could share my journey as a Mum and other things I am passionate about. And so 'The Mad Mummy Musings' was born. This blog gives me the scope to share more of me, and write in a very different way. It's more intimate. I started this blog in December last year.
Why The Mad Mummy? Well, because becoming a Mum has changed me far more than I ever believed possible. I suffered PND with my first daughter after a fairly traumatic birth and then I lost my own Mum to lung cancer when my second daughter was just 8 months old. My mothering journey has therefore had some major ups and downs and certainly hasn't been dull! There have been times when I have felt like I was going completely and utterly mad; sometimes in a good way but there have also been times when it hasn't felt so good. The Mad Mummy Musings has been a "slow burner" in comparison to Sophia's Choice but I feel it gives me more opportunity to share my loves, passions and musings in greater depth. I have found the blogging community exceptionally supportive on my journey so far and I really look forward to connecting with many more of you over the coming weeks, months and even years! Some post links to my blog are: PND, Grief and Losing My Mum
If you'd like to connect with me further you can follow me on Twitter: @charlieejhughes (www.twitter.com/charlieejhughes) and I also have a Facebook Page too. (www.facebook.com/pages/The-Mad-Mummy-Musings/342422109208547) I'd love to see you there x
So, go across and show Charlie, along with the other linkers below a lovely load of PoCoLo!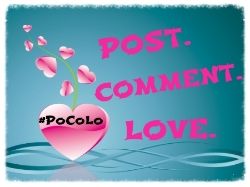 <div align="center"><a href="https://www.vevivos.com/post-comment-love" title="Post Comment Love"><img src=" http://i1322.photobucket.com/albums/u568/ToriWel/4e4a1bf6-07cb-494b-b06e-f959b1fe1311_zps654d027a.jpg" alt="Post Comment Love" style="border:none;" /></a></div>