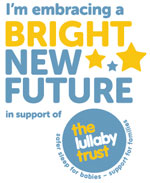 Like most of my blogging peers, we have followed Jenny over at Edspire since the loss of her beautiful daughter who fell asleep never to wake up. My heart broke as I read her story but I didn't get involved because I didn't know her or her blog. Now I feel I must do my bit.
One of my biggest fears when Grace was small was to go in to find that she had gone in her sleep. I didn't have too much to worry about as she never really slept but it didn't change the fact that the fear was there.
I understand the FSID, who have been a massive support to Jenny, have now changed their name to The Lullaby Trust. They say:
We have chosen our new identity to help us raise our voice, to ensure that sudden infant death is not ignored or considered to be an issue of the past.
Across the country, over 600 apparently healthy babies continue to die suddenly and unexpectedly every year. This is unacceptable and we want to do all we can to prevent these deaths. We believe that our new identity will help us to reach even more parents with our expert advice on safer sleep for babies. Through greater engagement with families and also with policy makers we hope to achieve our ambition to halve the number of babies dying by 2020.
So, to raise awareness, I thought that I would repost my poem 'Little Angel'. I hope it helps those who have lost.
Little Angel
Now I know I won't see your face
But I know you've gone to a better place
Your angelic smile and beautiful eyes
Are now the stars shining in the night skies
I will miss you so very much
Though I never got to feel your touch
My Little Angel, sleep peacefully dear
Heaven will hold you near
My Little Angel, play happily dear
Now you know theres nothing to fear
I won't hear your voice, comfort you when you cry
But the spoils of this world will pass you by
You won't ever know the troubles of life
Nor hear any words that cut like a knife
You will see no war or people in pain
Just rainbows through sunshine after the rain
My Little Angel, sleep peacefully dear
Heaven will hold you near
My Little Angel, play happily dear
Now you know theres nothing to fear
So take care of my child, oh angels above
Please tell the little one of all of my love
And even though I never had your face to see
I can feel each day you watch over me
I won't know of the happiness you'd have brought
But you will always be there, somewhere in my thoughts
My Little Angel, sleep peacefully dear
Heaven will hold you near
My Little Angel, play happily dear
Now you know theres nothing to fear
© Victoria Welton, March 2012
I am linking this post up to Jenny at Edspire and Suzanne at Ghostwriter Mummy and their Lullaby linky