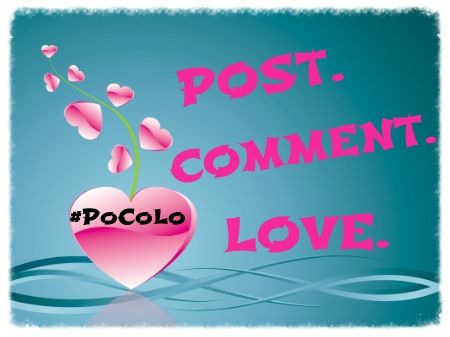 Once again last week over 50 people linked up to Post Comment Love. I had a fantastic weekend of reading ahead of me and again I am amazed at the sheer variety of blog styles and posts there are out there. It's brilliant to see how much the blogger community support each other.
If this is your first week then welcome! Come in and join the party! This link all about sharing posts which you have written this week which just haven't got the attention they deserve and, with them all in one place, we can help each other share the comment love. This is one of the easiest links EVER. You don't have a 'special theme' to have to write about, the post can be personal, sponsored, a photo, a review, a competition, your own linky, something you've linked to a linky….WHATEVER you like – it's one you've already written this week!
The only rules are that you comment on at least two of the other posts in the link (maybe the one above and one below yours?!) and then spread the #PoCoLo about this link up on Twitter.  The post you link up has to have been written in the last week.  The link will go up every Friday and close on Sunday evening at 8pm.
Remember, the more people who link up, the more attention your post is likely to get so please spread the Post Comment Love word and #PoCoLo.  Leave your Twitter handle and link entry number below if you would like a shout-out on Twitter. Also, don't forget to display the PoCoLo Badge (code below), again the more people who see it, the more attention your lonely post will get
And now…new to #PoCoLo this week is the Newbie Showcase.
Lorraine at Gin and Cornflakes has constantly reminded me of what a source of support to new bloggers this link is and she helped give me this idea. With the amount of people who link, it is the perfect opportunity for a newbie to introduce themselves each week. I have started to form a rota and am already into late May with people. So, if your blog is under a year old and you would like to appear in this feature then please email me vickywelton@hotmail.com and I'll put you on the list.
In the meantime I shall introduce our first newbie blogger showcase. This is Nell Heshram from The Pigeon Pair and Me. Please make the extra effort to visit her blog and comment on at least one of her posts.

"Gwen (just turned one), Austin (three) and I live in London with the Daddy D. I love being a full-time Mum. Helping two little people grow from mewling babies into giggly infants – who all the while, look and sound a bit like me – has anchored me to life. But it's been hard. All the experience and knowledge I'd built up over my career is lying discarded under a pile of nappy sacks and ricecake crumbs. When Austin was joined by Gwen, my unplanned caesarean opened up and got infected….three months later, I was still poorly, being treated at home by a community nurse. I had a baby and a livewire two-year-old to look after, and although friends were super-supportive, I didn't have any family who were able to help during the day. I started composing lots of ranty posts.

One afternoon, I was walking in the sun, holding Austin's hand while he strolled along a wall. At the same time, I was pushing a wide-eyed Gwen, as she eagerly drank in the world before her.  I realised that, on days like that, things couldn't get much better. I deleted the ranty posts, and started the Pigeon Pair and Me in November 2012, to help me remember the beautiful moments. I post about how Gwen hiccuped her way into the world; philosophy for kids and my love of Velma Dinkley; and how some things that were rubbish before children, now seem like treats. I've been writing for yonks, but social networking is new to me. So I only signed up for Twitter about a month ago – you can find me at http://twitter.com/NellHeshram. I failed dismally at setting up a Pigeon Pair facebook page. I messed it up, and now facebook has locked me out. Hopefully they'll let me back on soon. I'll let you know.
I'd love to hear from you. PoCoLo is such a great idea, especially for people like me (I was stuck in a no-comment hinterland till very recently). Thanks Vicky for being a such a supportive (post) Easter chick!"
Follow her on Twitter @NellHeshram.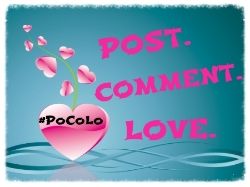 <div align="center"><a href="https://www.vevivos.com/post-comment-love" title="Prose for Thought"><img src=" http://i1322.photobucket.com/albums/u568/ToriWel/4e4a1bf6-07cb-494b-b06e-f959b1fe1311_zps654d027a.jpg" alt="Post Comment Love" style="border:none;" /></a></div>
Copyright protected by Digiprove © 2016 Victoria Welton