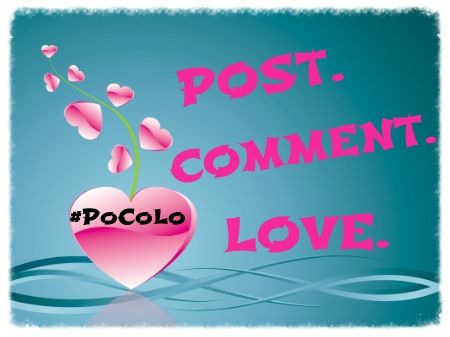 Last week I was overwhelmed with the amazing support from the blogger community for Post. Comment. Love. or #PoCoLo as we say in Twitter Land! As I said in my post on Sunday evening. I came across so many amazing blogs that it really humbled me and I realised just how lucky I was to get to the finals of the MADs. So many people put so much time and effort into what they write and display on their blogs and I believe this shows just how useful a tool this linky is.
I read and commented on all 57 posts which were all very varied. There were some craft and recipe ideas, a post about a woman who puts her kids to bed in their school clothes (not the blogger I hasten to add, she had written about someone else!), posts on autism and miscarriage, SAHMs even another linky and so the list goes on. I loved reading each and every one and believe I shared every single one on Twitter as well (apologies if I missed you!).
Which gives me an idea! Yes, that's right, another one!!! If you would like me to tweet the link to your post on Twitter with #PoCoLo then please put your Twitter handle in the comments below and the number of your link entry too. Of course, you can leave other comments below as well if you want – just keep 'em clean, eh – nothing about viagra, mulberry handbags or improving your sex life please!! 😉
If this is your first week then welcome! Come in and join the party! This link all about sharing posts which you have written this week which just haven't got the attention they deserve and, with them all in one place, we can help each other share the comment love. This is one of the easiest links EVER. You don't have a 'special theme' to have to write about, the post can be personal, sponsored, a photo, a review, a competition, your own linky, something you've linked to a linky….WHATEVER you like – it's one you've already written this week!
The only rules are that you comment on at least two of the other posts in the link (maybe the one above and one below yours?!) and then spread the #PoCoLo about this link up on Twitter.  The post you link up has to have been written in the last week.  The link will go up every Friday and close on Sunday evening at 8pm.
Remember, the more people who link up, the more attention your post is likely to get so please spread the Post Comment Love word and #PoCoLo.  Also, don't forget to display the PoCoLo Badge (code below), again the more people who see it, the more attention your lonely post will get.
Just a quick note to say that I am working tomorrow for a while (the perils of being self-employed and a broken down car this week! Long story) so I will comment on all posts over the weekend. Thank goodness it's a bank holiday!
Like what you see? Then please consider a vote for this blog in the Brilliance in Blogging Awards. Just click on the badges to your right near the top in the side bar and they will take you to the relevant voting sites. Also, massive thanks to everyone who voted for this Blog as a finalist in the MAD Blog Awards 2013.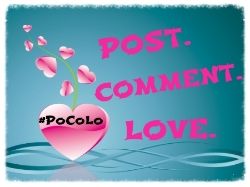 <div align="center"><a href="https://www.vevivos.com/post-comment-love" title="Prose for Thought"><img src=" http://i1322.photobucket.com/albums/u568/ToriWel/4e4a1bf6-07cb-494b-b06e-f959b1fe1311_zps654d027a.jpg" alt="Post Comment Love" style="border:none;" /></a></div>