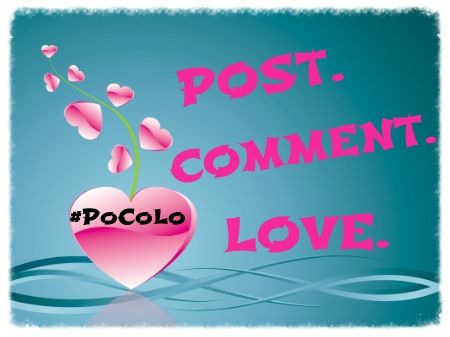 Welcome to the first week of what I hope will become a weekend tradition for the wonderful blogging community of which I am proud to be a part of.
Us bloggers are a multi-tasking bunch (in case you hadn't gathered!) and there never seems to be enough hours in the day to do all the things we want to do. I've also realised that there are many blog names which indicate this; One Busy Mum, Mum in a Hurry, Mummy Never Sleeps to name a few. I, for one, am continuously looking for ways to make life easier and, thus, PoCoLo was born.
This is all about sharing posts which you have written this week which just haven't got the attention they deserve and, with them all in one place, we can help each other share the comment love. We all know that one of the ways which heightens peoples awareness of a post is actually commenting on it and sharing opinions but, due to our busy lives – being a Mum, blogging, working, tweeting, cooking, blogging, cleaning, tweeting, changing the cat litter, putting the rubbish out, etc, etc….did I say blogging?! – some of these posts get missed and left by the wayside.
By having the forgotten posts all in one place, we can all help each other coz us blogging bunch are really a helpful, well-meaning lot. By publishing this post on a Friday it gives a majority of you the time to read over the weekend (when they are no school runs and less general frantic headless chicken moments!).
As I've already stated, this is one of the easiest links EVER. You don't have a 'special theme' to have to write about, the post can be personal, sponsored, a  photo, a review, a competition, your own linky, something you've linked to a linky….WHATEVER you like – it's one you've already written this week!
The only rules are that you comment on at least two of the other posts in the link (maybe the one above and one below yours?!) and then spread the #PoCoLo about this link up on Twitter.  The post you link up has to have been written in the last week.  The link will go up every Friday and close on Sunday evening.
Remember, the more people who link up, the more attention your post is likely to get so please spread the Post Comment Love word and #PoCoLo.  Also, don't forget to display the PoCoLo Badge (code below), again the more people who see it, the more attention your lonely post will get.
P.S. Talking of busy, you have my word that I WILL comment on every one that links up here but do bear with me! I am on the radio this afternoon (Mike Read Show, BBC Radio Berkshire at 3.30pm talking about being a MADs finalist), spending some time with Ross this evening (I don't want him to become a blogging widow!) and then I am working tomorrow eveining playing some mad woman in a Murder Mystery (situation normal then!).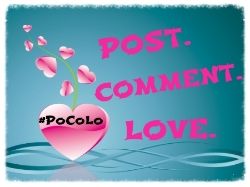 <div align="center"><a href="https://www.vevivos.com/post-comment-love" title="Prose for Thought"><img src=" http://i1322.photobucket.com/albums/u568/ToriWel/4e4a1bf6-07cb-494b-b06e-f959b1fe1311_zps654d027a.jpg" alt="Post Comment Love" style="border:none;" /></a></div>