Today is World Poetry Day (thank you to Helen from All At Sea for bringing this to my attention!) and I am so pleased that Prose For Thought is on such an apt day this year.
When I first started this link, I didn't realise that I would have so many talented people join up. I have read so many fabulous poems, some witty, some sad, some which brought tears to my eyes. Now the Prose For Thought word is spreading, I thought that this would be a great day to link all the previous posts up so that people can go on poetry overload! I'm putting all the previous Prose For Thought posts in the link below for people to read at their leisure (and hopefully comment!). The other linkers are within the link if you get my meaning! (and if you don't, just ask!).
My poem this week was inspired by a twitter conversation between myself, Helen (All At Sea) and Jaime (The Olivers Madhouse). We were discussing how cake and/or wine fixes everything and thus, my poem was born!
Wine O'Clock
8 o'clock, we're running late
The house is in a right old state
Tonight it's wine o'clock
Teaching, driving, use of brain
Some drivers driving me insane
Can't wait for wine o'clock
Idiots shout, get in my way
Purposefully they swagger and sway
When is it wine o'clock?
School pick up time, it drives me mad
Along with other Mums and Dads
We all want wine o'clock!
Homework done, let's have some fun
Tired, she keeps me on the run
Save me wine o'clock!
Dinner done and so, to bath
Love to hear her chatter and laugh
Almost wine o'clock….
Story read and kisses a must
Goes to bed without a fuss
At last it's wine o'clock
Sit down with him and, we know
It's going to be Shiraz Merlot
I love you wine o'clock!
© Victoria Welton 13th March 2013
To keep the poetry love going, I have a guest poet on my blog as well this week. Andy King and I have been friends since 2009 when we met through our drama group, The Quince Players, and appeared in Macbeth together. Andy is also a fantastic ballroom dancer and talented writer. He is cycling from Berkshire to Paris at the end of June in aid of Practical Action. Details are on his sponsorship page – https://www.myraising.com/andy-king/cyclingforsnails
My Favourite Books
He bounced high
The gold-hatted lover,
But he never caught his silver
They didn't talk about the club
But the word still leaked,
And the world came knocking at their doors
There was fault in their stars
And the water kept running,
But the blind man witnessed her vow
The characters laughed,
Ink danced across pages
Tear stains curling their corners
Books are the present, the now
The characters given breath by our being
© Andy King January 2013
I would really love and appreciate your comments below – and please, go and visit and comment on, the poems from the people who link up
If you have your own poem or piece of prose to share then grab my badge code and click the link below to enter your post. If you share a link back to my page in your post then you will be guaranteed some free publicity from me! Check out the Prose for Thought page for full details.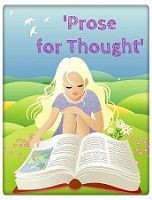 <div align="center"><a href="https://www.vevivos.com/prose-for-thought" title="Prose for Thought"><img src=" http://i1322.photobucket.com/albums/u568/ToriWel/Proseimagesmall_zps637beb08.jpg " alt="Prose for Thought" style="border:none;" /></a></div>