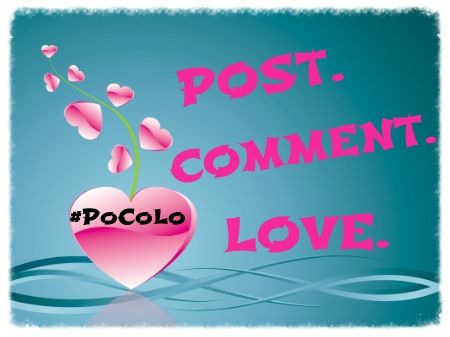 So the big reveal is here!
Thank you to the New Bloggers who commented on my competition post to guess what #PoCoLo meant. The lovely Leyla from This Day I Love , luscious Lorraine from Gin and Cornflakes and Phantastic Photomummy were the three bloggers with correct answers. They were right in saying it is a new linky that starts on my blog on Friday called Post. Comment. Love.
As I am in such a wonderful mood :), I have decided to give all three bloggers a turn at a space on my scrolling banner to advertise their blogs to my readers. I'll be in touch very soon girls!
This, in turn, has given me an idea for a monthly competition to win a scrolling banner for advertising your blog, a special event, a reminder or a single blog post that you might like publicised. More details to follow later on in the week!
So what is Post. Comment. Love?
Well, have you written a blog post or posted a photo that you are proud of this week?…..Are you proud of its content?….Is it getting seen by as many people as you had expected? Is it being commented on as much as you had hoped?……No?…..Oh dear…….
Well fear not dear bloggers, #PoCoLo is here to help! This is one of the easiest links EVER. You don't have a 'special theme' to have to write about, the post can be personal, sponsored, a photo, a review, a competition, something you have already linked up….WHATEVER you like. We have complicated enough lives without making it more difficult (I have to say doing a maths equation to simply comment on a blog post really does get my goat in a Taylor Swift kinda way!).
The only rules are that you comment on at least two of the other posts in the link and then spread the #PoCoLo about this link up on Twitter. The post you link up has to have been written in the last week. The link will go up every Friday – giving a majority of you the time to read over the weekend (when there are no school runs and less general frantic headless chicken moments!).
Remember, the more people who link up, the more attention your post is likely to get so please spread the Post Comment Love word and #PoCoLo. Also, don't forget to display the PoCoLo Badge (code below), again the more people who see it, the more attention your lonely post will get.
Blogging is a fantastic community to be a part of so lets spread the #PoCoLo
Look out for the video for #PoCoLo coming later in the week!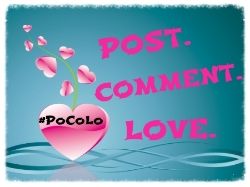 <div align="center"><a href="https://www.vevivos.com/post-comment-love" title="Prose for Thought"><img src=" http://i1322.photobucket.com/albums/u568/ToriWel/4e4a1bf6-07cb-494b-b06e-f959b1fe1311_zps654d027a.jpg" alt="Post Comment Love" style="border:none;" /></a></div>
Copyright protected by Digiprove © 2016 Victoria Welton