One of the mottos I like to live by is 'Do unto others as you would have done unto yourself'. I try my best to act respectfully and think of how my actions might affect others' feelings. I don't always get it right but to err is human I guess!
Anyway, I am fully aware that there are many people out there who don't care if they hurt others and will clamber over them at whatever cost to get to where they want to be. I also believe that people lash out when they are the ones who are insecure. I have come across so many people in my life who have treated me this way and I have let them….that was until I turned 40 and now I don't let anyone tell me what to do, how to be or what to think, or at least I don't let them see my insecurities anyway!
Yesterday I got to thinking about all of the above and wrote a poem about it.
Keep My Composure
Put on a front, put on a show
Keep it inside, no one will know
I am the actor, my life is a stage
Suppress all the tears, stifle the rage
A smile on my face, pretend I am happy
Stomach is whirling, inside I feel crappy
You don't know the damage your words have done
I'll never let you see that you might've won
I'm past all the caring about things people say
I'll keep my composure….I will….come what may
© Victoria Welton 13th March 2013
I would really love and appreciate your comments below – and please, go and visit – and comment on – the poems from the people who link up
If you have your own poem or piece of prose to share then grab my badge code and click the link below to enter your post. If you share a link back to my page in your post then you will be guaranteed some free publicity from me! Check out the Prose for Thought page for full details.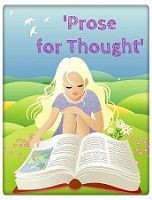 <div align="center"><a href="https://www.vevivos.com/prose-for-thought" title="Prose for Thought"><img src=" http://i1322.photobucket.com/albums/u568/ToriWel/Proseimagesmall_zps637beb08.jpg " alt="Prose for Thought" style="border:none;" /></a></div>