I made a bit of an error last week when I said that this week's Prose for Thought would be a Mothers Day special. I guess I was forward planning a little too far – but isn't that what Mums do?!
Thank you to the people who linked up last week – Sarah from The Puffin Diaries, Helen from All At Sea and another new linker, Emma from GraceFaith Blog.
What I do have this week is a poem which celebrates the month that was February, which has to be one of my favourite times of year. This is the month that truly feels like New Year to me. The days are getting longer, flowers are starting to grow and things are starting to warm up – if only a bit for this Country!! It also seems to be the month that I have started all of my meaningful relationships for some reason.
I wrote this poem about February as part of a writing circle I first started to attend a year after I had Grace. I didn't keep up the circle, but I did continue with the writing I am pleased to say.
The Beauty of February
As the clock reads half past five
The sun in the sky is trying to strive
To make the day seem that bit longer
As flora and fauna grow that bit stronger
The duck, the swan and Canadian Goose
Are all returning home to roost
The blossom grows and appears on the trees
Ready to become confetti in the April breeze
Whilst all around springing out of their beds
Crocus and daffodil are poking their heads
The next day can turn this all around
With a biting wind and frost on the ground
Whilst the beauty of February starts to grow
Best keep an eye out in case of snow!
© Victoria Welton  February 2008
I would really love and appreciate your comments below – and please, go and visit – and comment on – the poems from the people who link up
Next week: A Mothers Day Prose For Thought special – I promise this time!
If you have your own poem or piece of prose to share then grab my badge code and click the link below to enter your post. If you share a link back to my page in your post then you will be guaranteed some free publicity from me! Check out the Prose for Thought page for full details.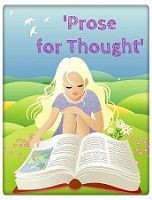 <div align="center"><a href="https://www.vevivos.com/prose-for-thought" title="Prose for Thought"><img src=" http://i1322.photobucket.com/albums/u568/ToriWel/Proseimagesmall_zps637beb08.jpg " alt="Prose for Thought" style="border:none;" /></a></div>