Many thanks to my linkers, regulars and new, from last week. These were Jaime – and Beth – from The Olivers Madhouse, Livi from Mrs Teepot, Sarah from The Puffin Diaries, Helen from All At Sea and finally, new linker, Louise from A Strong Coffee..
This week I have written a poem about Grace. Yesterday morning she went off to her father's and is staying with him until Saturday evening. I have to admit that I dislike it everytime she goes away. I try to keep busy and take my mind off where she is and what she is doing but I miss her until she returns. Before she left she was lying on the floor writing and, as I watched her the words of my poem came to mind so, I sat and wrote too. This sums up just some of my feelings.
Each Time You Go Away
Each time you go away, you take with me your heart
Hopeful you will have some fun, though I hate that we're apart
I want for you to feel that you can spend time with your Dad
That he will treat you right, respectfully, be the Dad I never had
But isn't that the reason I left him? Knowing what he'd do?
But how do I explain this to you knowing he's a part of you?
This house is filled with echoes of the sounds that came before
I can't wait for them to return when you walk back through the door
No need for bedtime stories or cuddles to soothe your woes
I hope that he takes care of you, if he does God only knows
But what this does is form you into the woman you will be
Thankful you will know right from wrong and not have what happened to me
© Victoria Welton  20th February 2013
I would love your comments below – and please, go and visit – and comment on – the poems from the people who link up 🙂
Next week: A Mothers Day Prose For Thought special
Tomorrow: Look out for a great book giveaway
If you have your own poem or piece of prose to share then grab my badge code and click the link below to enter your post. If you share a link back to my page in your post then you will be guaranteed some free publicity from me! Check out the Prose for Thought page for full details.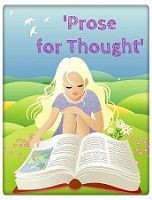 <div align="center"><a href="https://www.vevivos.com/prose-for-thought" title="Prose for Thought"><img src=" http://i1322.photobucket.com/albums/u568/ToriWel/Proseimagesmall_zps637beb08.jpg " alt="Prose for Thought" style="border:none;" /></a></div>
Copyright protected by Digiprove © 2016 Victoria Welton