I would like to say a big thank you – and lots of Valentines love – to the five bloggers who made last week's Prose for Thought the best week yet. That is The Olivers Madhouse, The Puffin Diaries, All At Sea, Mummy Never Sleeps and Mrs Teepot.
I searched through my book looking for a poem to share with you today and found one which I felt suited today's occasion perfectly. I can't remember why I wrote it or who I wrote it for but I really hope you enjoy it. Happy Valentines Day everyone!
Do You Feel This Way?
Now we're together I need search no more
I'm with you and it was worth waiting for
I can't believe that I've found a love so true
My life is worth living if I can be with you
Tell me, do you feel this way?
True love and companionship is what we've got
The way I feel for you is so much more than a lot
A future together for us is what I see
And faithful to each other is what we both will be
Tell me, do you feel this way?
So say you'll be there
Take care of me your whole life through
Say you'll always love me
Just like I'll always love you
I want to face the challenge with you
Whatever life may hold
Spend each passing day with you
Stay together whilst we grow old
I'm telling you….I'll always feel this way.
© Victoria Welton  1996
If you have your own poem or piece of prose to share then grab my badge code and click the link below to enter your post. If you share a link back to my page in your post then you will be guaranteed some free publicity from me! Check out the Prose for Thought page for full details.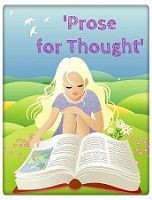 <div align="center"><a href="https://www.vevivos.com/prose-for-thought" title="Prose for Thought"><img src=" http://i1322.photobucket.com/albums/u568/ToriWel/Proseimagesmall_zps637beb08.jpg " alt="Prose for Thought" style="border:none;" /></a></div>
Copyright protected by Digiprove © 2016 Victoria Welton