I am so pleased that this linky is starting to receive more followers, comments and people saying that they are looking to join up. So if you are new this week then a very warm welcome.
I just wanted to let you know if you are regular here, that I've changed to Linkytools which is much easier to use – plus you can use the code to blog hop and put the list onto your post too so that other people can join in from your site.
This week's poem is only two days old. It is pretty self-explanatory really. I find that, because of what has happened in past relationships, I start worrying that the same things are going to happen all over again – despite the fact that I am in a very loving relationship (sorry Ross!). Of course, I need to let go of my fears and, by writing down my feelings and emotions in the form of poetry, I find that I get it out of my system. It is very cathartic – why not try it?!
Whether you are joining the linky or just here to visit, then I would love your comments on what you think below!
Ghosts of the Past
Remaining in my present are ghosts of what has past
I try hard to overcome them and pray that they won't last
I push you to your limit; I put our love on trial
I don't mean to do these things, it really ain't my style
Self-destruction, why can't I see?
This could self-fulfil the prophecy
So, shift over ghosts, please let me be
Leave me to love him, they way he loves me
© Victoria Welton  5th February 2013
If you have your own poem or piece of prose to share then grab my badge code and click the link below to enter your post. If you share a link back to my page in your post then you will be guaranteed some free publicity from me! Check out the Prose for Thought page for full details!
Next week: Let's share the LOVE, it's Valentines Day!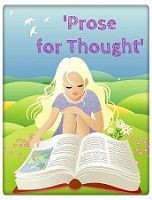 <div align="center"><a href="https://www.vevivos.com/prose-for-thought" title="Prose for Thought"><img src=" http://i1322.photobucket.com/albums/u568/ToriWel/Proseimagesmall_zps637beb08.jpg " alt="Prose for Thought" style="border:none;" /></a></div>