Welcome to Thursday's Prose for Thought. The linky for your original poetry and prose – be it written by you, your family or someone you know.
Thank you once again to Sarah from The Puffin Diaries and many thanks to Livi from Mrs Teepot for also linking up last week. Please go across and ready their poems if you haven't already.
My poem this week was written when I started attended something called 'The Freedom Programme'. Being the victim of Domestic Abuse, I was offered this course by Surrey Women's Aid and found it a great help and comfort at a very difficult time. Grace was just over 10 months old, I was living with my Mum and finding everything very hard so am very grateful that they were there to support me. I had also started to channel some of my feelings into poetry and 'The Strength Within' was just one of the many I wrote.
The Strength Within
You may feel at this moment that you are on your own
Please believe me when I say that you are not alone
They may punch, they may kick, they may have a way with words
But there are people out there waiting for you to be heard
He may make you feel worthless, say you're nothing without him
But you are worth much more than this, you cannot let him win
He may try to control the children and turn them against you
But children will see the real truth, it's something time can do
So next time you hear yourself say 'What on earth shall I do?'
Just remember there are people out here waiting to help you
Find the strength within yourself to move out and move on
Because what this monster is doing to you is morally and physically wrong
It may still feel difficult to live through all this pain
But one day soon you'll find a better life and learn to love again
© Victoria Welton  17th November 2007
Please join in with the link up below:



I would love it if you would 'grab my badge'! Also, don't forget to tweet your post using #Prose4T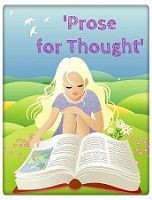 <div align="center"><a href="https://www.vevivos.com/prose-for-thought" title="Prose for Thought"><img src=" http://i1322.photobucket.com/albums/u568/ToriWel/Proseimagesmall_zps637beb08.jpg " alt="Prose for Thought" style="border:none;" /></a></div>
Copyright protected by Digiprove © 2016 Victoria Welton