Welcome to my second week of the new poetry linky, 'Prose for Thought', a great new place to link up with all your original poems and prose.
A big thank you to Sarah from The Puffin Diaries for joining up last week with her beautiful poem entitled 'Light and Shade'.
This week's poem was also written as a song. 'Again' has it's own tune which came to me very easily and has been composed and played by a good friend of mine, Angela McCarthy a very talented musician. Somewhere I have a copy on a music file so one day I might build up the courage to share it!
'Again' was written on 23rd January 1995 about the ending of a relationship I was in. When writing it, I found I had finally turned the corner and, although I was upset, I realised if he wasn't interested in me then he wasn't 'the one'.
AGAIN
Here I sit again not knowing what to do
Confronted by confusion all down to you
Do you know since that fateful day
Took your love away
Didn't want to stay
That I don't know what to say to them
All those other men
Please come back again
No, don't say it's the end
Here I go again, my thoughts spinning round
My head in the clouds, feet firmly on the ground
But those feelings haunt me again
Those ones way back when
More than just good friends
You told me that you really cared
All those times we shared
But now I'm feeling scared
Oh yes, I'm really scared
Here I am again, all by myself
Need to find someone, shouldn't sit on the shelf
But the feeling should be so right
Is my goal in sight?
Could it be tonight?
And no second best, it wouldn't do
'Cause yes, that was you
And no, it just won't do
Find someone who needs me too
© Victoria Welton  23rd January 1995
Please join in with the link up below:



I would love it if you would 'grab my badge'! Also, don't forget to tweet your post using #Prose4T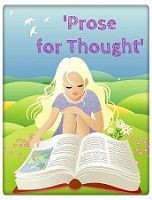 <div align="center"><a href="https://www.vevivos.com/prose-for-thought" title="Prose for Thought"><img src=" http://i1322.photobucket.com/albums/u568/ToriWel/Proseimagesmall_zps637beb08.jpg " alt="Prose for Thought" style="border:none;" /></a></div>